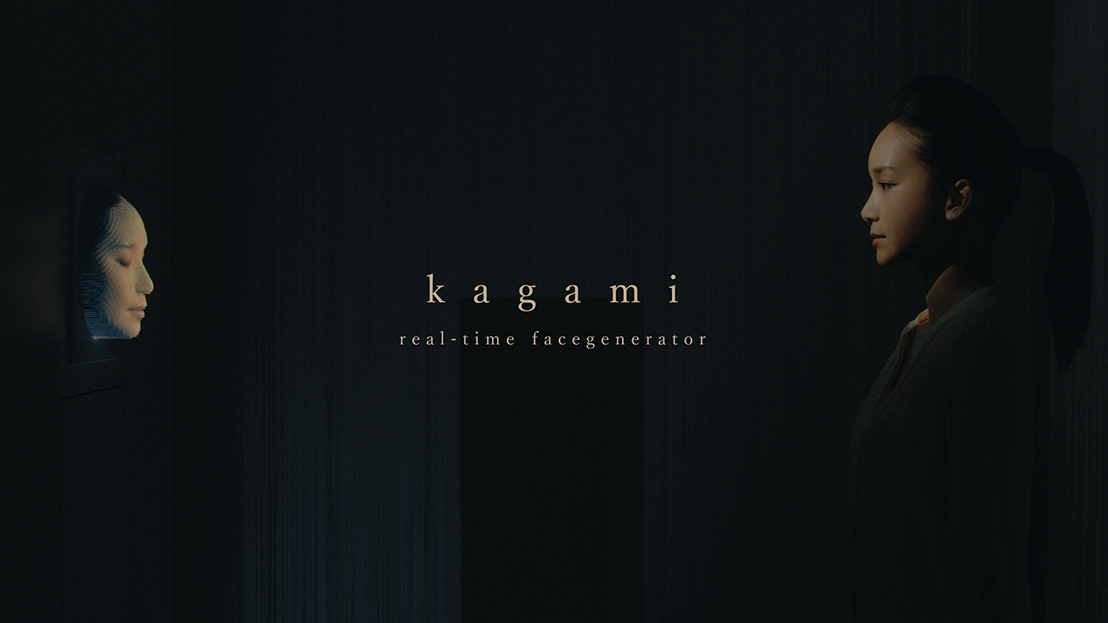 "kagami / Real-Time Face Generator" "Kacho Fugetsu / Real-Time Face Tracking & Projection Mapping"
WOW magazine 108 - Oct. 11th, 2016
kagami / Real-Time Face Generator
"kagami" means a mirror in Japanese. "kagami / Real-Time Face Generator" is an installation, which features "3D mirror," capable of replicating a person's face in three dimensions.
The installation's face scanner scans a participant's face, and a computer converts the scan into 3D modeling data. On the basis of this data, around 5,000 rods are moved forward by a motor, creating a 3D face in real time. The face then becomes a canvass for the theme of "Kacho Fugetsu", which means beauties of nature in Japanese, as electric makeup art featuring morning glory, bamboo, butterflies, kingfishers, ibis, sunsets, cherry blossoms, moon etc. is projected onto its surface.
Play Movie ▶
kagami / Real-Time Face Generator
This work is the result of a collaboration between WOW and a project team from Kao Corporation, who drew their inspiration from the "OMOTE" project. It took one year to produce, from planning through to completion. It has been established as an exhibit at Kao's COCOLAB museum, founded in September this year.
Kacho Fugetsu / Real-Time Face Tracking & Projection Mapping
This work was made as a side project to "kagami / real-time face generator." It can also be seen as a continuation of the real-time face tracking/ projection mapping project "
Connected Colors
," which used the colors of the natural world as its theme.
As with "kagami", the theme for this work is the beauty of nature. The Japanese word "kachofugetsu" is a compound derived from flower (ka), bird (cho), wind (fu), and moon (getsu), and is intended to evoke the beauty, diversity and harmony of Japan's natural treasures. Humans once lived as a part of nature, leading spiritual lives in the midst of its bracing aesthetic. Through the medium of electric make-up art, this work encapsulates the idea that this natural beauty contains a set of aesthetic values and a sense of identity of which Japan ought to be proud. In addition to existing technologies, this work introduces a newly designed 4K/240P projector in order to further improve the delicate feel of the skin and make-up and the sense of dynamic motion.
Play Movie ▶
Kacho Fugetsu / Real-Time Face Tracking & Projection Mapping
Nobumichi Asai (WOW) acted as creative and technical director for "kagami" and "Kacho Fugetsu," overseeing the planning and development of the project. Noboru Tomizawa, who also collaborated on "Connected Colors", oversaw the makeup art. Beautiful makeup art provides a base over which WOW's CG animation is projected to evoke the vivacity and motion of nature. Music was provided by hatis noit, using a tonal palette exclusively composed of sounds from nature. Using sounds from her native Hokkaido, the sound of the wind over the plains, running water, bird song etc., hatis noit creates a sound-scape drawn from her own memories.

Staff
Creative / Technical Director : Nobumichi Asai [WOW]
Director : Shingo Abe [WOW]
CG Designer : Tsutomu Miyajima [WOW], Ryo Kitabatake [WOW]
Producer : Shinichi Saeki [WOW]
Project Manager : Ayaka Motoyoshi [WOW]
Make-Up Artist : Noboru Tomizawa [CUBE Management Office]
Music & Vocalist : hatis noit

Kao COCOLAB Project