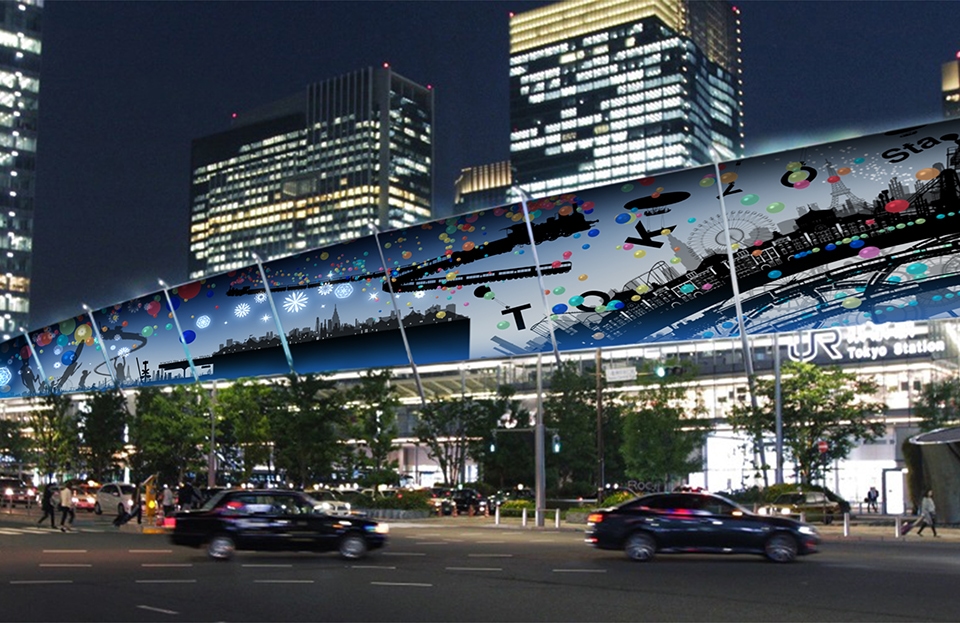 Tokyo Station Grand Roof "Light on Train"
WOW magazine 110 - Nov. 28th, 2016
WOW's Largest Installation Ever "Tokyo Station Grand Roof Light on Train" open from December 1st
WOW was in charge of creative direction video production for the newest installation, "Tokyo Station Grand Roof Light on Train". It will open on December 1st at JR Tokyo Station Yaesuguchi Grand Roof pedestrian deck and the Yaesuguchi-ekimae courtyard.
"Tokyo Station Grand Roof Light on Train"
A new platform is coming to Tokyo station, one of the busiest in Japan where many trains come and go on a daily basis. The many lines at the station carry people on their daily journeys and they all create light -- the origin of thoughts and energy. Light dances in the air and is touched by visitors breaking up into "light flowers" and drifting on throughout the Grand Roof area.
With a total length just over 200m, the Grand Roof will have 3 areas: "Image Presentation area", "Interaction area" and "Lighting effects area". The story in each area will connect seamlessly, where you will be able to enjoy the light space from any vantage point. Also, in the Interaction area, visitor's silhouettes will be projected in real time, where they can interact with the light from the train.

This winter, please visit Tokyo station, and experience a fantastic world where light and shadows spin and play.
Tokyo Station Grand Roof Light on Train
Period:Thursday, December 1 to Sunday, December 25, 2016
Time:Around 17:00-22:00
Venue:Tokyo Station Yaesuguchi Grand Roof pedestrian deck and the Yaesuguchi-ekimae courtyard