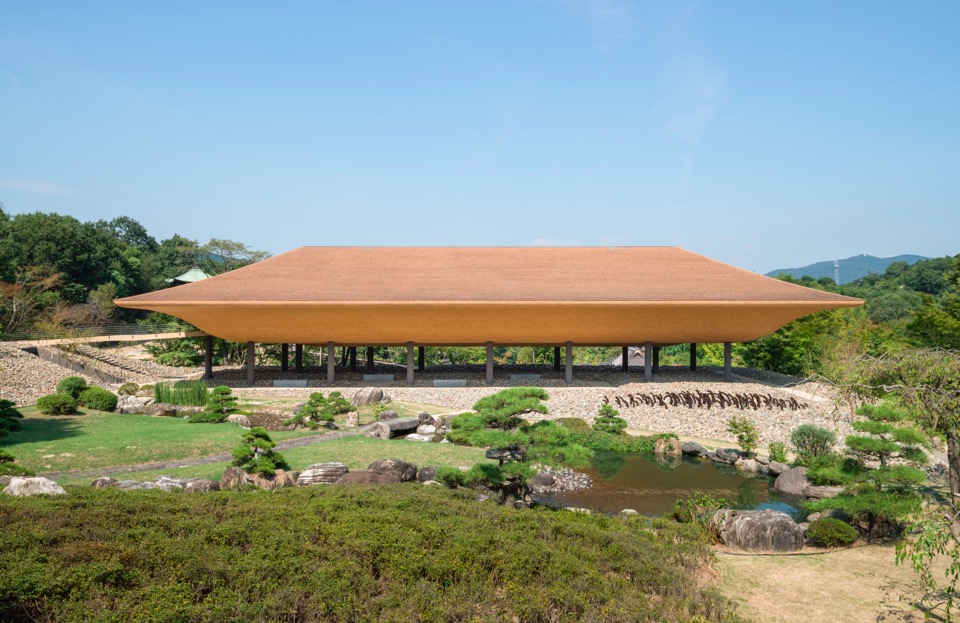 KOHTEI
WOW magazine 121 - Aug. 17th, 2017
The KOHTEI art pavilion stands on the campus of Shinshoji Zen Museum and Gardens in the mountains of Fukuyama, Hiroshima Prefecture. Along with the temple's other facilities, it is a place for visitors to contemplate the spirit of Zen through the experience of Zen practices.
There is an installation that is collaboration artwork by Kohei Nawa and WOW.
Strolling the gently sloping walkway up and entering the interior of the vessel-shaped structure through the small entrance, one finds an ocean spreading in the darkness. Viewing the shimmering lights on the quietly rippling waves in the dark silence, one can spend a meditative time. Indeed, staring at the glimmers reflected on the waves, one's vision and auditory sense are curiously sharpened. This contemporary art installation was created in collaboration with visual design studio WOW. Today, we are constantly showered with information created with a variety of visual media. The lights and images flooding commercial areas are designed to send messages to people in an instant to whet consumer appetites. An experience of perception away from such an environment, however, can directly reach a person's core sensibility. A meditative time/space can be experienced differently by each viewer. Although it was not my intention to express Zen directly, if viewers retain the memories of their visit here and have the opportunity to consider the sensibility and philosophy of Zen later, I would be very happy.
(Nawa, K., An Architecture That Floats on Waves Surrounded by Hills. In: Shinkenchiku,ed.2016. Shinkenchiku-sha Co., Ltd. pp.74-85.)
Moving images are reduced to "light" by "waves." Image resolution will most probably continue its march toward greater definition, from 8K to 16K and beyond. But this work, where images are always reduced to "light" no matter how high their resolution, will in all likelihood survive into the future with its intrinsic value intact. By being reduced to "light," the medium of moving images for the first time acquires reproducibility of phenomena, narrative, and permanence, despite its transient nature. This represents an essential change for expressions employing moving images, a change born out of silence and darkness, the seedbed of meditation.
(Yuki Tazaki|WOW Conceptor, Takuma Nakaji|WOW Creative Director)
This spring, WOW and musician Marihiko Hara have added environmental sound to the interior of KOHTEI, further increasing the sense of unity between light, time and space.
▶
Official website
Staff
KOHTEI Project Members
Planning:Shinshoji temple and Kohei Nawa | SANDWICH
Project management:Toshiko Ferrier of Office Ferrier
Installation:Kohei Nawa | SANDWICH with WOW
Sound:Marihiko Hara
Cooperation:NICCON and SUPER FACTORY

WOW Staff
Conceptor:Yuki Tazaki
Creative Director:Takuma Nakazi
Programmer:Tomohiro Nagasaki, Shunsaku Ishinabe
Sound Engineer:Hikari Mutaguchi (White Light)
Publication of "KOHTEI" pictorial book
The pictorial book "KOHTEI" (Kohei Nawa|SANDWICH), which captures various perspectives on the "production", including the architecture of KOHTEI, its internal installations, and the surrounding environment, has been completed. Collected together with SANDWICH's blueprints are: a study by architectural historian and critic Taro Igarashi; photographs allowing you to experience "KOHTEI", and images capturing the material properties of Gottingham, by photographer Omote Nobutada; Nawa's concept text; and the production process of the artisans and creators associated with the art pavilion.

This beautiful pictorial was created to be as subject to close analysis as possible, and to convey varied experiences of the art pavilion, and allow you to relive the production. To commemorate the pictorial's publication, an interview event between Igarashi and Nawa is also planned. Click here for details on both the pictorial and the event.