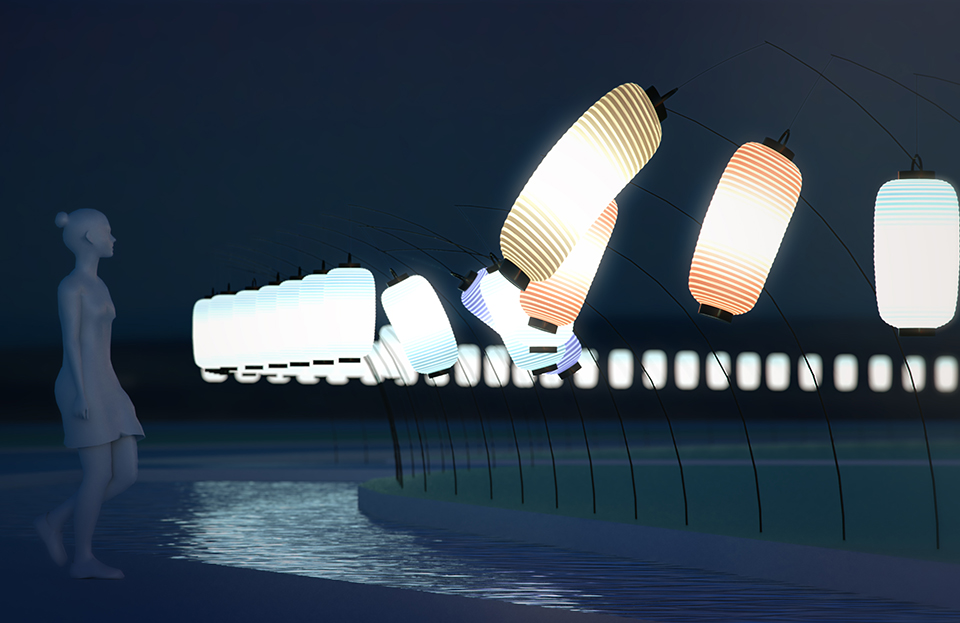 Mono Kokoro Paper Lanterns|No Maps|"Tsurutaro Kataoka SHIKISAIKA -Flowers of the four seasons-"
WOW magazine 127 - Oct. 11th, 2017
New installation "Mono Kokoro Paper Lanterns" open to the public at the Tokyo Midtown DESIGN TOUCH
The new installation "Mono Kokoro Paper Lanterns' is open to the public at Tokyo Midtown DESIGN Touch from Friday, October 13th until Sunday, November 5th.
The paper lanterns are lined up along the small stream inside Midtown Garden. In modern times, paper lanterns are often used as ornaments or as signs. However, "Mono Kokoro Paper Lanterns" start to flutter when approached, almost as if to welcome the person, and light up to express their delight. A fusion of traditional Japanese themes and designs, they're the expression of a new type of lantern with something dwelling inside. Enjoy this interactive experience while walking through the greenery.
About Tokyo Midtown DESIGN TOUCH
"Enjoying design with all five senses" is their concept. As a "chance to encounter novel design", which presents superior design from Japan and the world, they provide opportunities for plenty of people to make new discoveries and encounters that enrich their daily lives.
Mono Kokoro Paper Lanterns
Date:October 13 (Fri) - November 5 (Sun), 2017
Time:11:00〜21:00
Venue:Midtown Garden
Organized by:Tokyo Midtown
Produced by:WOW / HAKUTEN
▶
Tokyo Midtown DESIGN TOUCH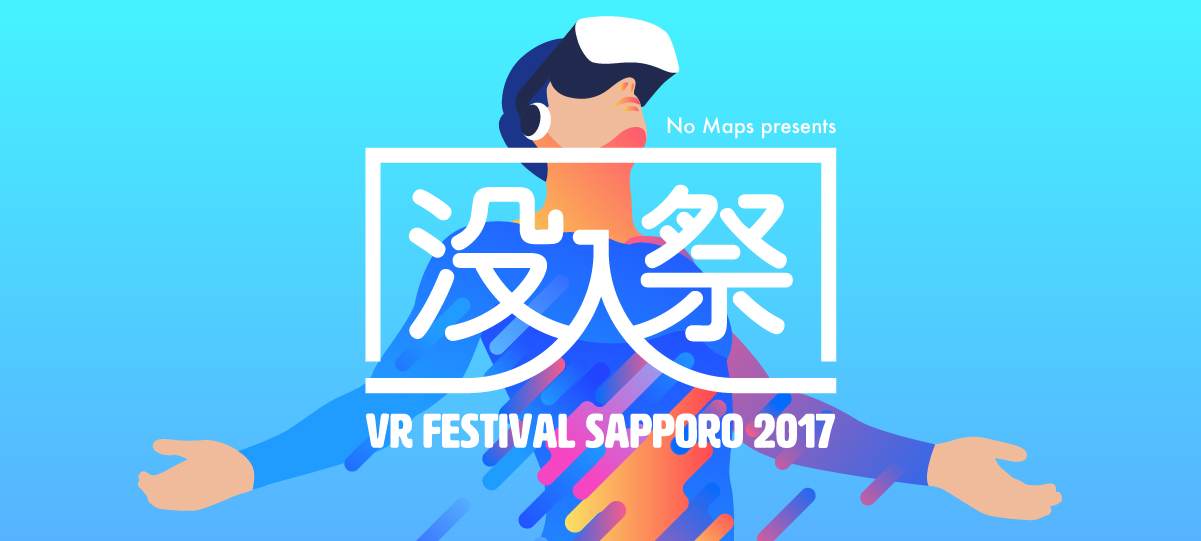 No Maps: Tokyo Light Odyssey Open to the Public at VR Festival Sapporo 2017.
Tackling the new possibilities of motion graphics, the "Tokyo Light Odyssey" was born from an internal project by WOW called 'Beyond Motion Graphics.' Works will be on display featuring the technical side of virtual reality and the expressions of art made possible by it.
About No Maps
Held in Sapporo and Hokkaido, areas symbolic of pioneering, No Maps is a convention for people with the "modern frontier spirit," who want to use creative ideas and technology to build a new society. The convention aims to enhance the creativity of not only the attendees, but also of the people living in the area, and to open up the way to a new, uncharted territory.
No Maps: Tokyo Light Odyssey Open to the Public at
VR Festival Sapporo 2017 "VR Dome Movie Selection & Kibaco Planetarium Live."
Date:October 14 (sat)
Time:19:00〜20:30 (Open : 18:30)
Venue:Planetarium, Sapporo Science Center 1F
Address:5-2-20, Chuo 1Jo, Atubetu, Atubetu-ku,
Sapporo-shi
Capacity:180 seats
Ticket:Sapporo Science Center / Ticket Pia(P code:340-287)
Contact:Sapporo Science Center 011-892-5004
▶
Tokyo Light Odyssey
▶
No Maps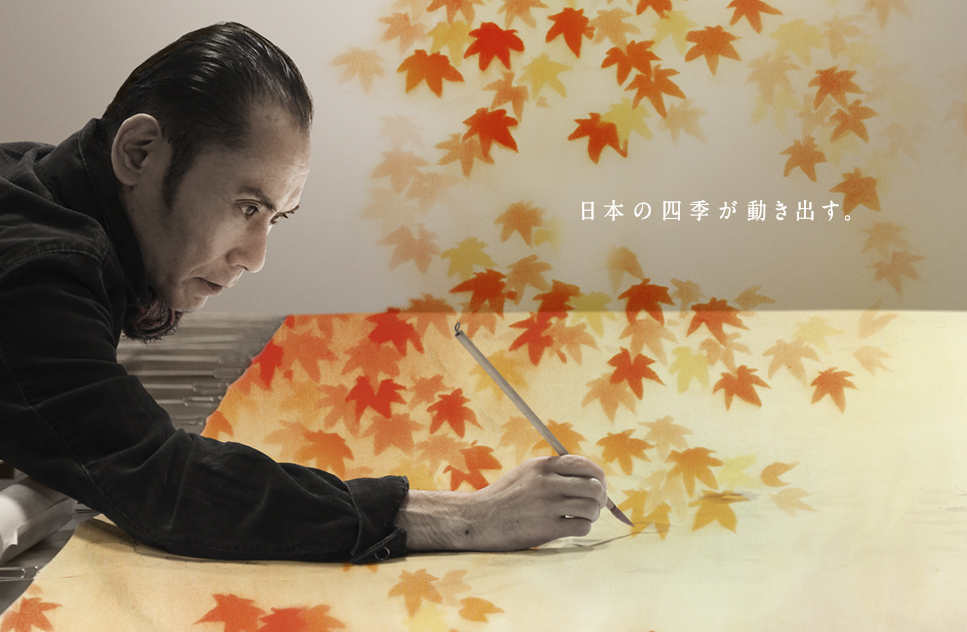 TSURUTARO × WOW Visual Design Special Exhibition "Tsurutaro Kataoka SHIKISAIKA -Flowers of the four seasons-"
Tsurutaro Kataoka has been creating ink paintings for over 20 years, and this is a carefully selected collection of approximately 100 of his works, themed around the four seasons. WOW was in charge with the production design of the space, using a range of video and audio equipment, lights and placing spot projectors, or "space players" in 10 different areas, to create a space that expresses "the beauty of Japan's four seasons." The works of art and the video images, silence and sound. Mr. Kataoka's pieces and WOW's production of the space have combined beautifully to present the world of Kataoka like never before. The highlight of the exhibit is his piece, "SHIKISAIKA -Flowers of the Four Seasons-)," which he created specifically for this exhibit. Spring, Summer, Autumn and Winter are painted onto a large, three meter long scroll, onto which magical images are projected, to produce a stunning piece.
Tsurutaro Kataoka SHIKISAIKA -Flowers of the Four Seasons-
Date:October 7 (Sat) - November 4 (sat), 2017
Time:10:00〜18:00
*Last admission is 30 minutes before closing. *Closing is 8:00 pm Friday and Saturday, 5:00 pm on the last day
Venue:Gallery A, 21st Century Museum of Contemporary Art Kanazawa
Address:1-2-1 Hirosaka, Kanazawa-shi, Ishikawa
Admission:Adult 1,200yen Junior school and high school students 900yen Elementary school kid 600yen
Ticket▶
Hokkoku Shimbun Event Guide