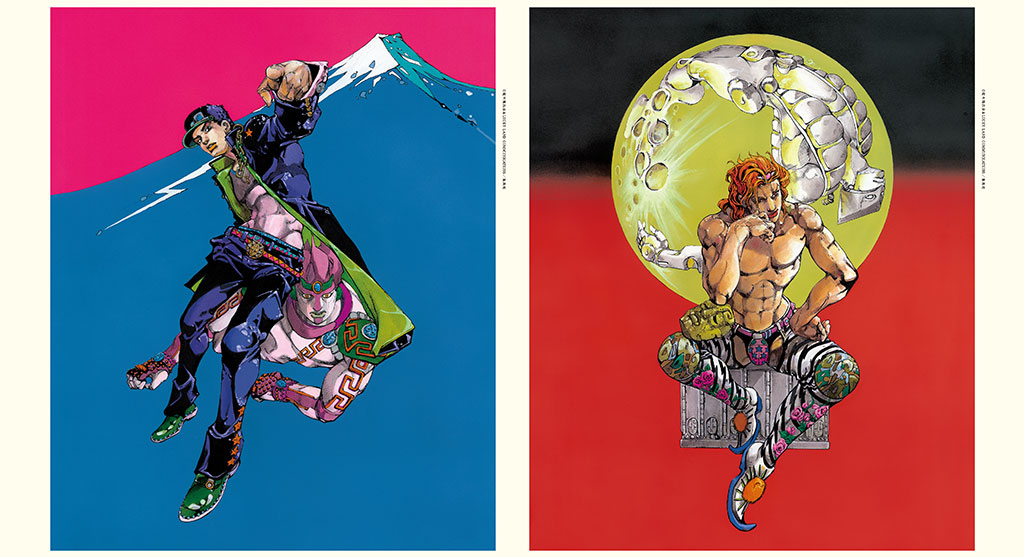 New video installation work "AURA" at Hirohiko Araki's JOJO exhibition
WOW magazine 138 - Aug. 16th, 2018
JOJO's Bizzare Adventure began serialization in 1987. Of course, over such a long history JOJO itself continues to spread it's universe and influence, much like a ripple. At this exhibit, included in the debut, is a display based on a wealth of original works and related material celebrating JOJO, that uses versatile and innovative techniques. WOW challenged with presenting the moment of a STAND's creation using a large-sized display. Please come by and enjoy the world of JOJO.
Video Installation Work "AURA"
When Joseph Jostar fist explained stands to Jotaro Kujo he said, "What you think is an evil spirit is actually a powerful vision created by your life force. Because they appear to stand beside you, we call those visions '幽波紋(STANDs)'"

As shown above, at first, stands were given the kanji for "Ghost ripple." The kanji was used in order to tie into the "(波紋)Ripple" in JOJO part one and two. The "Ripple" has the same vibration as the sun; "life energy" itself.

Here, we have come up with a theory. Perhaps The Ripple and STANDs, rooted in the same "Lifeforce", emerged and developed based on the same principal.

This work, based on the above-mentioned theory is going to depict the mechanism behind this emergence and development. It was decided that this emerging phenomena would be called "Aura." "Aura," when it comes to philosophical terminology relates to things that radiate beauty without a visible form. In the fields of occultism, theosophy, and parapsychology it is thought of as something that envelops a person, and gives off a mystical and brilliant image.

Aura is not an Homage to JOJO, rather it is an experimental work of this theory and its visuals coming together.
Hirohiko Araki's JOJO exhibition, "Ripples Of Adventure"
Period:Friday, August 24 to Monday October 1
Close:Every Tuesday
Time:10:00〜18:00 (Close at 21:00 on every Friday and Saturday)
*Last admission is 30 minutes before closing.
Venue:The National Art Center, Tokyo (Kokuritsu-Shin-Bijutsukan), Special Exhibition Gallery 2E
Address:7-22-2 Roppongi, Minato-ku, Tokyo
▶
Exhibition website
©Hirohiko Araki&LUCKY LAND COMMUNICATIONS/SHUEISHA