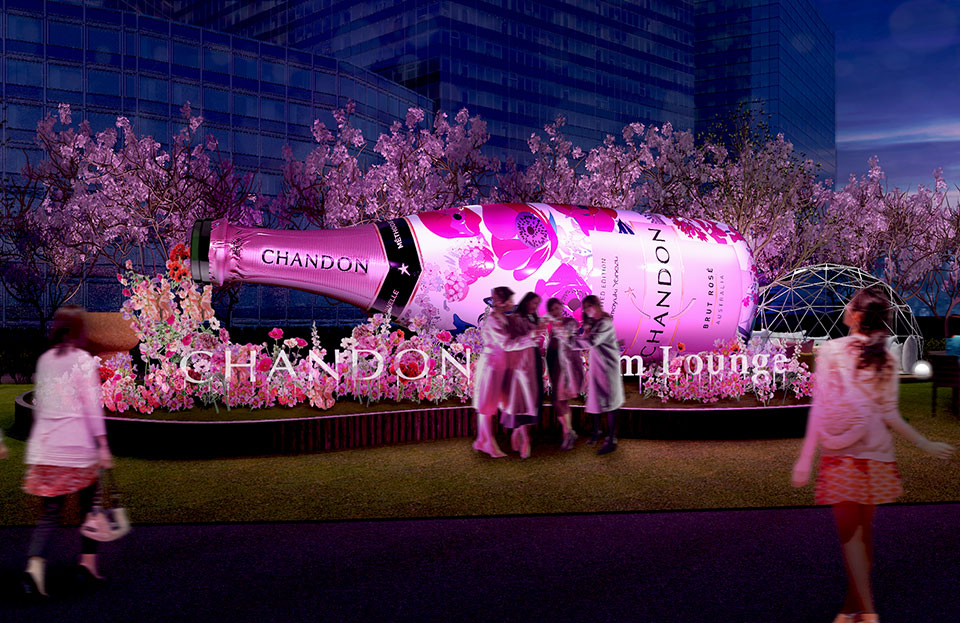 CHANDON Blossom Lounge 2019 Open in Tokyo Midtown
WOW magazine 148 - Mar. 13th, 2019
Continuing on from last year, "CHANDON Blossom Lounge" will be held in Tokyo Midtown from March 15th (Fri.) until April 14th (Sun.), 2019. WOW was in charge of the creative direction and image production for the giant Chandon bottle, "Chandon Bouquet," installed in the center of the grounds.
The giant "Chandon Bouquet" gives the impression of having wandered into something out of Gulliver's Travels. When you look inside of it from the bottom, you will be able to see a brilliant, florid world spread before you, a kaleidoscope of dancing butterflies and blooming flowers. You can also enjoy a special display when you offer a toast to the glass set in front of the "Chandon Bouquet." Please enjoy a somewhat different take on cherry blossom viewing at "CHANDON Blossom Lounge" this year's spring too.
CHANDON Blossom Lounge
Date:March 15 (Fri) - April 14 (Sun), 2019
*Will be canceled in the event of stormy weather.
Time:12:00〜20:00(L.O. 19:30)
*Every Friday and Saturday the cherry blossom viewing will be open until 9:00 p.m.
Venue:Midtown Garden, area alongside Sakura Avenue, Tokyo Midtown
Address:9-7-1 Akasaka, Minato-ku, Tokyo
Seats:Approx. 100 seats
*There will also be "Chandon Suite" seats available inside the dome-shaped tents, where you will be able to spend the time in warmth and comfort.
▶
Tokyo Midtown "MIDTOWN BLOSSOM 2019"
▶
OHANAMI CHANDON Campaign Page