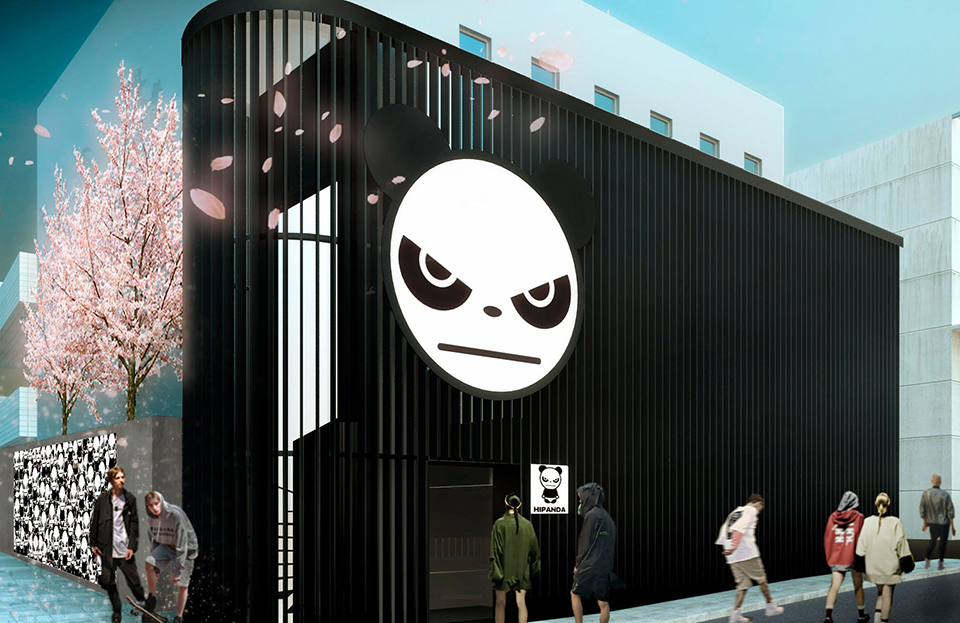 HIPANDA OMOTESANDO store features an experiential installation with videos & AR
WOW magazine 151 - Apr. 17th, 2019
On April 14th, 2019 (Sun), Chinese apparel brand HIPANDA opened its largest flagship store in Omotesando. Along with CURIOSITY founder Gwenael Nicolas who managed the store coordination and production, WOW managed overall direction of video & AR for the new in-store experiential installation.

In the store, there is a "Haunted House" themed "Panda House." By using the app, you can discover who is hidden and what is happening in the store, and encounter HIPANDAs that appear in various places. In-store videos can be triggered and operated with AR, and visitors can interact with different worlds, such as the real world, video world, and AR. It is an attempt to create a new communication platform by inventing a new world out of a real location such as a physical store. Please come visit to experience the various stories taking place in-store.
HIPANDA
With the opening of its largest flagship store on April 14th, 2019 (Sun), this Chinese apparel brand is earnestly embarking in Japan. After the HIPANDA artwork was exhibited at the "V&A Museum" in London, England, the lovable and artistic character became a trendy subject among celebrities and quickly gained recognition throughout Europe. As a brand that started from art, there were many celebrities attending the exhibition party. Through character collaborations with the world's leading art museums and brands, and opening new shops in department stores and along the roads in Paris, they shifted to the apparel business.

HIPANDA OMOTESANDO FLAGSHIP SHOP
It has the largest area in the brand's history with the expansion and sales of new items on 1F-3F of the 3 stories, and you can enjoy the world of HIPANDA's original technology everywhere you look through the installation of AR developed by WOW under the supervision of CURIOSITY founder Gwenael Nicolas.
HIPANDA OMOTESANDO
Address:4-21-8 Jingumae Shibuya-ku, Tokyo
Tel:03-6721-1522
Open:11:00〜20:00
▶
HIPANDA Official website
RENDER was awarded the title of Honoree in the Webby Award
The experimental image installation piece made with 20 clear organic EL displays, "
RENDER
," was awarded the title of Honoree in the Art & Experimental division of Webby Award. Following 360° motion graphic work "
Tokyo Light Odyssey
," it has received awards for two years in a row.
RENDER
RENDER is an experimental installation created using 20 sheets of organic display electroluminescence. Its focus's on the perception of "being able to see things that cannot actually be seen" using footage from the the natural world such as rain, wind and lightning, as well as a three-dimensional audio reconstruction using natural sound fragments.
The artwork aims to trigger a new sense of depth allowing viewers to reimagine what is depicted between each display using their minds to fill in the blanks. By displaying fragmented three-dimensional visuals on multiple displays, a new perspective can be explored not only from the front but all angles in 3D space. This experience will intensely stimulate the viewer's imagination, leaving a deeper impression on one's mind.
▶
Webby Award | Art & Experimental