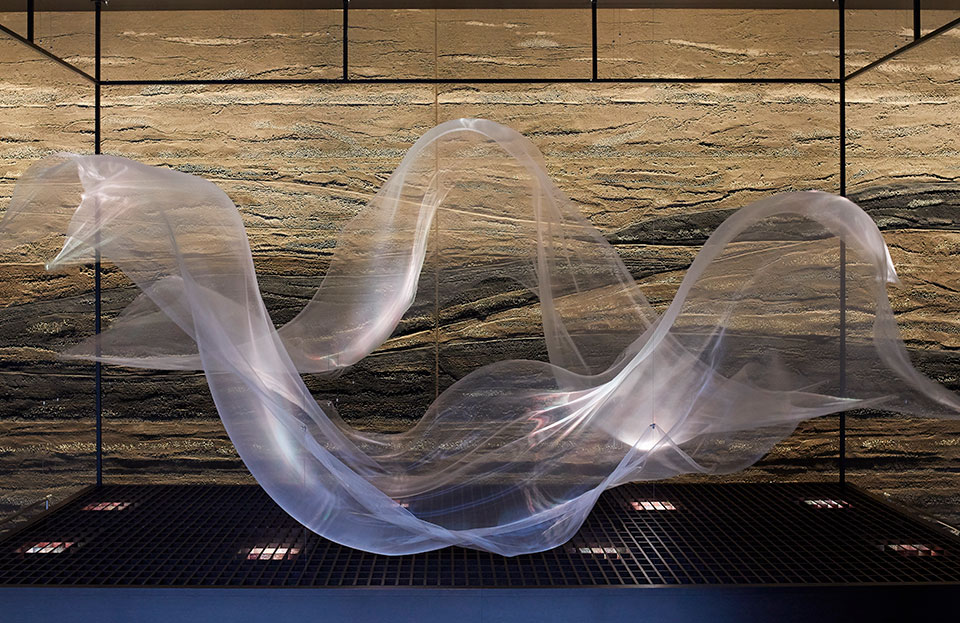 Permanent exhibition of the art installations "wind_form" and "FLOW" at THE THOUSAND KYOTO
WOW magazine 152 - Apr. 25th, 2019
"THE THOUSAND KYOTO" located near JR Kyoto Station and operated by "Keihan Hotels & Resorts" opened on January 29. "wind_form" and "FLOW", original work by WOW will be permanently on display. "wind_form" will be displayed in the Front area and "FLOW" in the Cafe & Bar area. Please drop by when you are in the neighborhood.
wind_form
Organic shapes and movements are created by using six fans to direct wind flow towards pieces of cloth. This represents the universality and eternity existing in the consciousness of all human beings.

FLOW
As a piece of art to be displayed in the TEA & BAR area under the theme of "contemporary tea ceremony", it is a modern interpretation of a "hanging scroll" expressing the transformation of nature. Video work is created using delicate fluid simulation with 3DCG software to visualize the phenomenon of "flow" existing in nature.
THE THOUSAND KYOTO
Address:570 Higashi Shiokoji-cho, Shimogyo-ku, Kyoto
Tel:+81-75-354-1000 (Stay) / +81-75-351-0700 (Restaurant)
▶
THE THOUSAND KYOTO
"EXPERIENCE A NEW ENERGY" won the interior Architecture Gold Prize at the iF Design Award 2019
"EXPERIENCE A NEW ENERGY", an exhibition representing the development and world of research for SHISEIDO's skincare line "Essential Energy" available in 85 countries and regions around the world, has won the Gold Award "iF Design Award 2019" (Interior Architecture Category) among 6,375 entries from 52 countries and regions. (67 design experts selected a total of 66 Gold Award winners after a strict selection process.)
Also was selected as Exhibition of the Year in the "2019 Frame Awards" chosen by the Dutch magazine "Frame" and received the gold prize in the "2018 Japan Kukan Design Awards"
▶
iF WORLD DESIGN GUIDE
▶
FRAME AWARDS 2019
▶
Japan Design Space Association