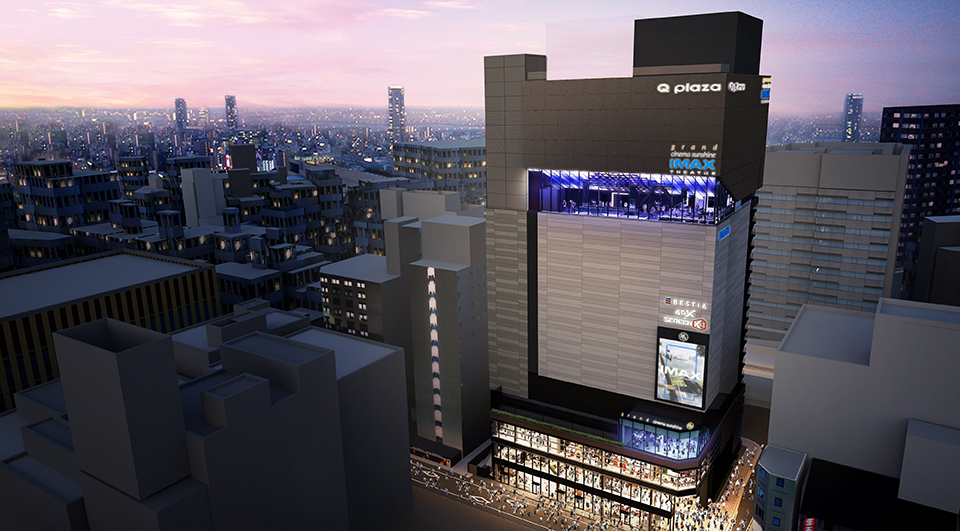 Chandelier with a diameter of 2.7m and ceiling LED of 31m x 10m for Grand Cinema Sunshine will be revealed.
WOW magazine 156 - Jul. 10th, 2019
On July 19 (Fri.), a 12-screen large cinema complex, the "Grand Cinema Sunshine", will be opening in Ikebukuro, Tokyo. The Grand Cinema Sunshine will be Japan's largest fixed cinema(※1)and will be equipped with the up-to-date technologies, including "IMAX® LASER/ GT TECHNOLOGY" and Japan's first ever immersive cinema experience technology, "4DX with ScreenX". Also, the interior space has been designed to excite and immerse patrons into the fun world of movies. Service that exceeds the usual standards of cinema complexes will also be offered - all in all to provide a new standard of entertainment. Under the direction of WOW, the chandelier ("Light Sculpture") located in the entrance lobby of the 4th floor of the complex and the large LED display ("Motion Ceiling") that covers the ceiling of the 12th floor have been procured.
4F: Entrance Lobby, "Light Sculpture"
"A new form of art born from a combination of craft with a modern twist" - with this outlook in mind the chandelier was commissioned to stand as the icon of the Grand Cinema Sunshine. Its spherical shape has a diameter of 2.7m and has a stainless mirrored finish, and is divided into 47 Voronoi parts - projecting in 4 directions films played on the screen situated in its center to create a complex and continual visual reflection. The design and construction of the chandelier were undertaking by TORAFU ARCHITECTS. The chandelier, reminiscent of a huge light kaleidoscope, glorifies the entrance space of Grand Cinema Sunshine.

12F: Foyer and Lounge Space, "Motion Ceiling"
Spanning the large ceiling with a width of 31 meters and a height of 10 meters is an art motion graphics work, the "Motion Ceiling". This work is reminiscent of beautiful ceiling art and was commissioned along with three thematic points: "GEOMETRY" or light-weight tiling; "REFLECTION" or the portrayal of a giant cloth flowing beautifully in the sky; and "LIGHT" or the depiction of a city landscape wrapped in countless sparkling particles. The largeness of the LED display makes it possible to gaze upon it from its surrounding spaces. The work was built by referencing the multiple vantage points from which it would be looked upon, such as by those relaxing in the cafe and lounge and by passersby.
Grand Cinema Sunshine
A cinema complex consisting of 12 screens and approximately 2,500 seats operated by the SASAKI GROUP. The main feature of the Grand Cinema Sunshine will be its theater screen with a height of 18.9m and a width of 25.8m, equipped with "IMAX® LASER/GT TECHNOLOGY." This screen will be Japan's largest fixed cinema screen.
Other distinctive features will include: a theater equipped with "4DX®" technology to provide an immersive theater experience; the implementation of RGB Laser Projectors in all the theaters (a first for a Japanese cinema complex [※3]); a "BESTIA" theater that meets the Cinema Sunshine original theater standards; 3 grades of seats from which patrons can select to meet their comfort and use needs; and a selection of original food menu items. All in all, the Grand Cinema Sunshine will deliver a new standard of service and movie entertainment to our patrons.

※1※2: The maximum screen measure of 18,910 mm × 25, 849 mm in the vertical and horizontal directions is Japan's largest screen found in permanent commercial movie theaters (investigated by the Japan Giant Screen Association, IMAX, the SASAKI GROUP).
※3: According to XEBEC and SASAKI GROUP studies
Grand Cinema Sunshine
Address: 1-30-3 Higashi Ikubukuro, Toshima-ku, Tokyo (within the Q Plaza Ikebukuro building)
Number of screens: 12 screens
Numbers of seats: 2,443 seats
Operator: SASAKI GROUP (manages 14 cinema complexes throughout Japan)
▶
Grand Cinema Sunshine Official Website