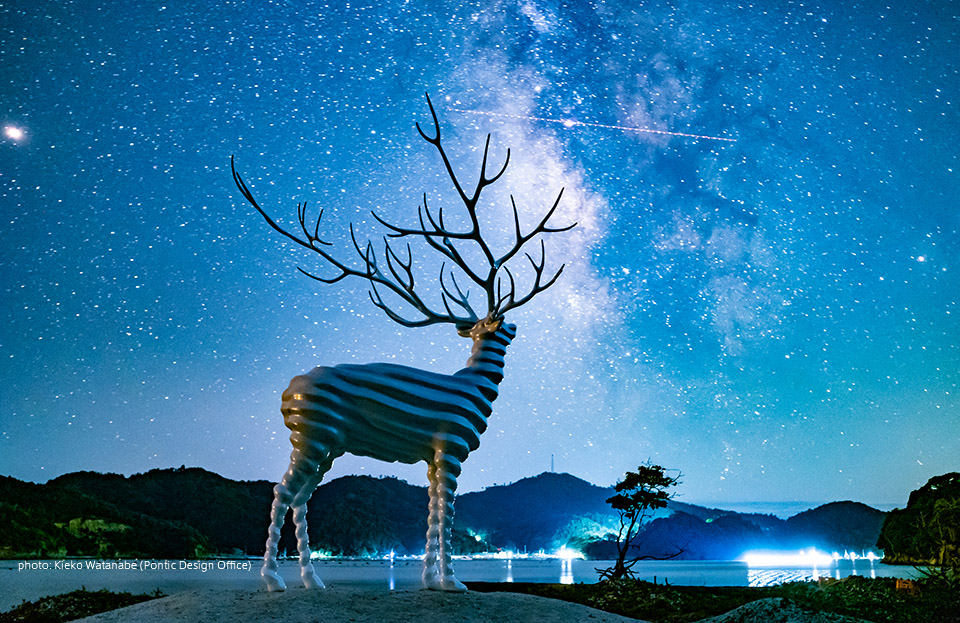 The brand new installation "Emerge" at Reborn-Art Festival
WOW magazine 157 - Aug. 2nd, 2019
The Reborn-Art Festival is primarily hosted in the Oshika Peninsula and Ishinomaki areas of Miyagi Prefecture. It's a festival where you can enjoy art, music and fine food. With the 2nd festival in 2019, which will take place across 7 locations including Aji Island, 7 teams of curators will work together with a variety of artists and creators to create works based on the theme of "The Feel of Life." WOW will be exhibiting the brand new installation "Emerge" in the Oginohama area.
Emerge
In a cave at the foot of a mountain in Oginohama lies a war-time facility created to store torpedoes for the former Imperial Japanese Navy. Many decades have passed since the war ended, and now the entrance has become overgrown with vegetation, the rocks lay covered in moss, and the whole area possesses an atmosphere with very primal intensity. "Emerge" is a light installation that writhes away in the depths of this cave. It is occasionally intense, drawing parabolas at random while offering glimpses in the dark to impart upon the beholder the message that 'Anima is the life that resides in movement.'
Reborn-Art Festival
The Reborn-Art Festival first began on Saturday the 22nd July 2017 in Ishinomaki and Oshika. It was a brand new festival that lasted 51 days and provided attendees the chance to enjoy art, music, and fine food created by locals on stages bountiful with nature. The Ishinomaki and Oshika areas were some of the locations worst affected by the 2011 Tohoku earthquake.
Here, contemporary artists from both Japan and abroad came to visit and gained a connection with the area while creating new works of art, musical events of all sorts of styles were hosted, and famous chefs gathered together from all over the country to meet the local people and their local ingredients and provide meals that couldn't be experienced anywhere else. The place became a catalyst for all kinds of new meetings. Our aim is to use those meetings to help create opportunities for the revival and promotion of these areas. The 2nd festival in 2019 will be hosted over 58 days from Saturday the 3rd of August to Sunday the 29th of September in Miyagi Prefecture, and we've decided to hold it in the Oshika Peninsula, Ishinomaki, and this time Aji Island as well.
Reborn-Art Festival
Date:August 3rd - September 29th, 2019
Time:10:00〜16:00(10:00〜17:00 for Saturday / Sunday / National Holidays / Aug 13th - 16th)
※May vary depending on facilities and works, so please confirm on
each artist's page.
Emerge Exhibition Information
Exhibition Area:
Oginohama Area
Exhibition Venue:Sakiyama, Oginohama, Ishinomaki-shi, MIyagi prefecture
▶
BUY TICKET
▶
Reborn-Art Festival