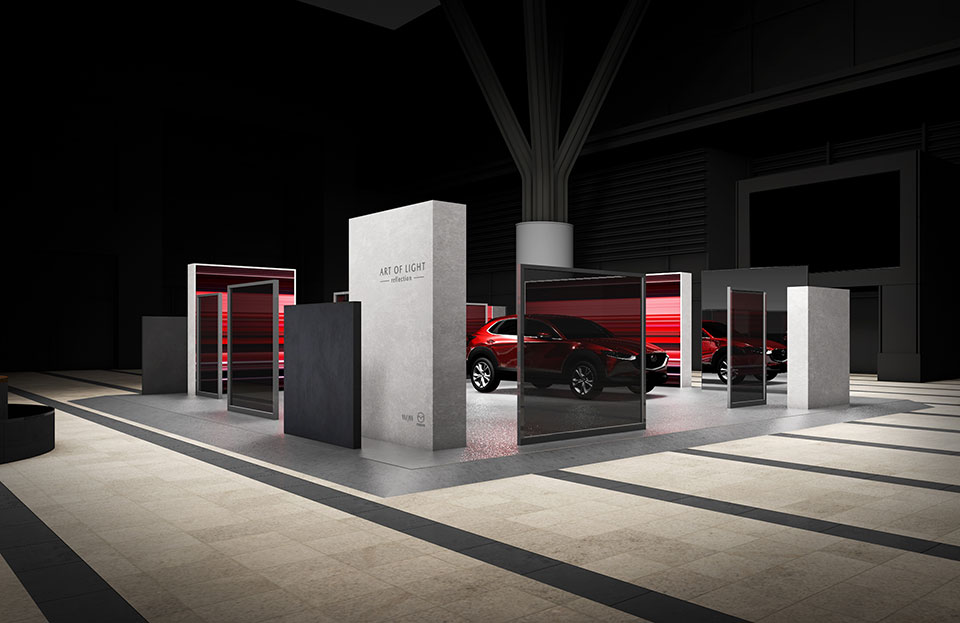 An installation themed on "ART OF LIGHT - reflection-" is being exhibited at the Tokyo Midtown DESIGN TOUCH 2019 Mazda Brand Space
WOW magazine 159 - Oct. 16th, 2019
Mazda's new crossover SUV Mazda CX-30 will appear in the Autumn Design Event Tokyo Midtown DESIGN TOUCH 2019, an event with the concept of "enjoying design with all five senses." WOW was responsible for producing and directing the exhibition space for CX-30, as well as the artistic imagery.
WOW has created an advanced and unique space with the theme of "ART OF LIGHT -reflection-". Multiple large LED monitors were placed around the CX-30 to express the beauty of the "Transition of Light", symbolizing the deepened Mazda design concept "Kodo" (Soul of Motion).
Please experience a space which was created to resonate with Mazda's thoughts, aiming to raise car design into an art form so that the beauty of the car stimulates the sensibility of the people who see it, and every day spent with a Mazda vehicle becomes creative.
Tokyo Midtown DESIGN TOUCH 2019
Date: October 18th - November 4th, 2019
*The CX-30 exhibition will take place between October 18th to October 27th, 11am to 9pm (free entry).
Venue: Canopy Square, Tokyo Midtown 1F
Address: 9-7-1 Akasaka, Minato-ku, Tokyo
▶
Mazda Event Information
▶
Tokyo Midtown DESIGN TOUCH