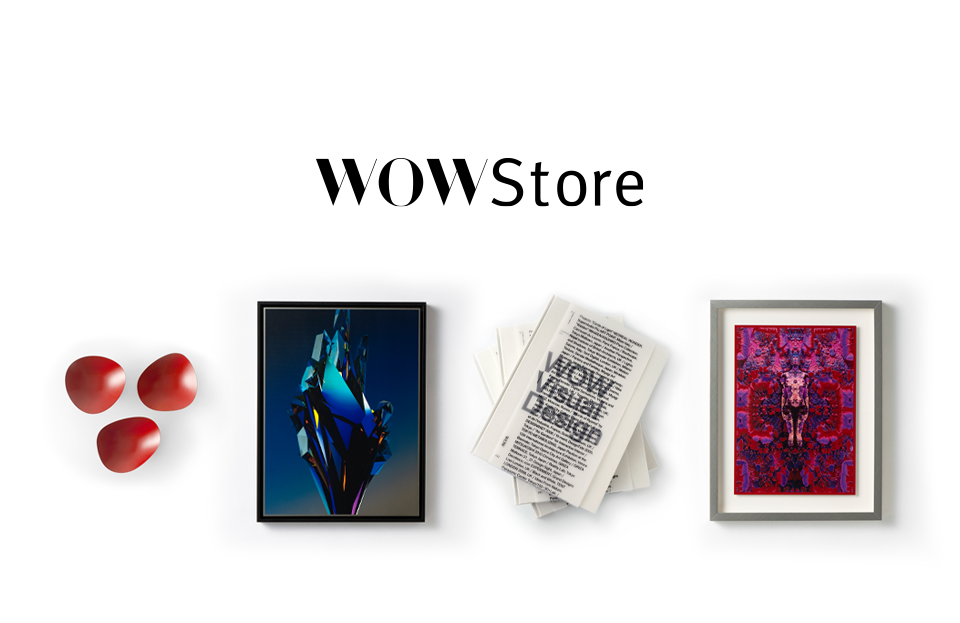 The "WOW Store" has opened, unveiling and offering WOW's creativity transformed into objects
WOW magazine 173 - Oct. 20th, 2020
As a visual design studio, WOW has worked for over 20 years on various visual design projects, such as videos, spaces, installations, and UI. In recent years, we have taken our yearning for real objects and turned it into unique original products. The EC site "WOW Store" was launched as the place to unveil and offer these products. In addition to launching this store, "WOW Edition" and "LUX by BLUEVOX!" has been released.
WOW Edition
While keeping with the world view of WOW's video productions, this project features new works utilizing various printing methods and materials. As digital information becomes increasingly realistic (= greater presence), an art piece was developed to establish (= materialize) the world view in the video as "one layer of reality," based on the "motion texture 02" production that attempts to blend non-material video works into living spaces.
LUX by BLUEVOX!
Product label "BLUEVOX!" is a project that takes the techniques and particularities of the lighting, form, and texture of 3D data cultivated by WOW through visual design, and applies them to actual objects. For "LUX," we worked with "
10¹² TERRA
," a brand that designs furniture, vases, and glass containers for cactus hydroponics, to endeavor to design "the behavior of light" itself rather than the instruments referred to as lighting.
In addition to these new products, we also offer a variety of art pieces, products, applications, books, and more. We invite you to take hold of WOW's creativity that has been transformed into these objects.
▶
WOW Store
▶
BLUEVOX!
*BLUEVOX! can be purchased from both websites.
*We offer international shipping, so please contact us on either website.