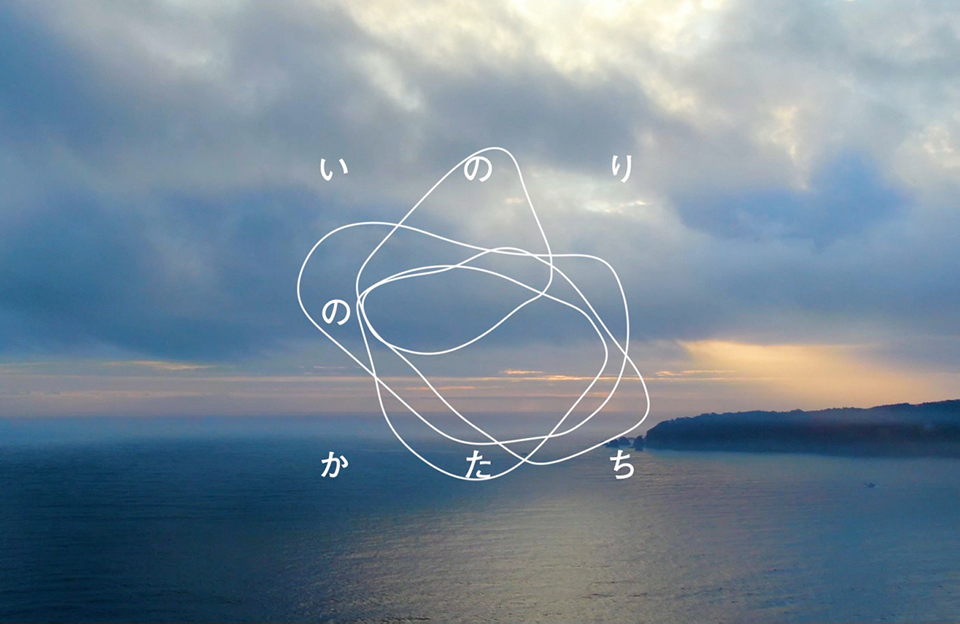 Research project "The Shape of Prayer" opens to public
WOW magazine 182 - Jun. 17th, 2021
We are pleased to announce the online release of "The Shape of Prayer," an original project based on the theme of Japanese prayer culture. In this research project, WOW, which has previously published "
BAKERU
" and "
POPPO
," installation works that rediscover the traditional culture of the Tohoku region through contemporary expression, will produce an original work based on the information learned from fieldwork concerning traditional prayer and its form. Since ancient times, people have experienced awe and gratitude towards invisible things and natural phenomena, and have coexisted with them by giving them various "forms." When we look at the meaning of the shapes that remain today, we can see the rich spirituality of our ancestors. "The Shape of Prayer" is a project that aims for us who live in the modern world to gain new insights and discoveries by experiencing traditional culture, which we have become less aware of in our daily lives, through contemporary media expressions.
Project Background
Prayer has been practiced in various eras and places since ancient times. Performing arts, crafts, festivals, paintings, customs, food, music, architecture. People's prayers have taken on various forms to spread to many people and have been passed down through time. Some of these forms reflect the characteristics of local culture, while others have a commonality that transcends time and place. There are many occasions of praying for something even today, but we don't often have the opportunity to become aware of the culture behind it. We decided to take a fresh look at the spirituality that has been passed down from generation to generation and the culture behind it through the forms of prayer that are still around us today.
Project Contents
We will conduct research and fieldwork on the themes of "katashiro" (a human-shaped talisman), "patterns," "mountains," and "sake," which have been associated with prayer since ancient times, and in the end produce four installation works. The entire process will be documented on video, which will be made available online as a video work. In addition, we have deepened our research on a wide range of topics concerning prayer in collaboration with
Miyagi University DESIGN STUDY CENTER
. The video work to be released online will also be sequentially shown at the Design Research Building of Miyagi University (public release is scheduled for this summer).
Four installation works
UTSUSHI - An installation work based on the motifs of "katashiro," a human-shaped talisman, and "chinowa-kuguri" (passing through a loop made of kaya grass). You can experience the worldview of exorcism and "Katashiro-nagashi," the throwing of talismans which harbor impurities and bad luck into the river, through AR.

MONYOU - Kimono, noren curtains, and hand towels. People have created patterns from nature, such as plants, water, and light, and worn them. By combining the motifs of traditional dyeing techniques with hands-on digital expression, this work allows visitors to learn about the roots of patterns and experience a different way of looking at them.

YAMA no KAKERA - Mountains and forests have been believed to be inhabited by gods in Japan since ancient times. If you look at mountain stones collected during fieldwork through a special scope, you will see a variety of landscapes beyond them. This is an installation work that calls to mind the divine nature of the mountain from its part.

MEGUMI - Sake has been used in rituals since ancient times as a means of connecting with the gods through intoxication. In this work, visual expression is used to depict the various lives and beliefs that surround sake. This is an installation work with which the invisible can be felt through its presence.

The Shape of Prayer
▶
Official Website
▶
Teaser Movie
*Each work will be released sequentially on the site. "UTSUSHI" and "MONYOU" will be released in July 2021. "YAMA no KAKERA" and "MEGUMI" are scheduled to be released from August onwards.
"UTSUSHI," "MONYOU," "YAMA no KAKERA," and "MEGUMI" will be a part of WOW's 25th-anniversary exhibition project. (See below.)
Exhibition of video works
Period: April 23 (Friday) - October 29 (Friday), 2021
Place: Miyagi University Design Research Building 1F, Open Study
*Public release is scheduled for this summer.

Miyagi University Yamato Campus
Address: 1-1 Gakuen, Yamato, Kurokawa District, Miyagi Prefecture
Phone number: 022-377-8217

WOW Talk Vol. 8 "The possibilities of traditional culture and visual design"
WOW Talk is a series of online talk events by WOW staff. For the eighth installment of the series, the members participating in "The Shape of Prayer" will talk about the behind-the-scenes aspects of the project under the theme of "The possibilities of traditional culture and visual design."
WOW Talk Vol. 8 "The possibilities of traditional culture and visual design"
Time: June 25, 2021 (Friday), 19:00-21:00
Streaming: Live streaming from the WOW YouTube Channel
▶
WOW YouTube Channel
Speakers: Executive Director Kaoru Kudo, Director Daisuke Takahira, Technical Director Hiroki Sato, Producer Takuya Inagaki
Interviewer: Masahiro Kikuchi (Sendai Keizai Shimbun editor-in-chief)
WOW 25th Anniversary Project
In 2022, WOW will celebrate its 25th anniversary. When we celebrated our 20th anniversary, it held a retrospective exhibition that gazed at "WOW's Past, Present, and Future." Last year, when its 25th anniversary came into view, an unprecedented situation, the coronavirus crisis, occurred. Due to this situation, everyday life, which we had enjoyed as something commonplace, and the future that we had foreseen grew far apart from each other. How should WOW face the era? It was a year in which WOW re-examined existing patterns and choices and repeatedly engaged in self-questioning and introspection. From such a year, we now have our eye on the 25th anniversary and beyond.

WOW searched for a visual design that would open up a way out of the difficulty, as would be typical of WOW. It will begin working on a 25th-anniversary exhibition project whose theme is "The Future of WOW," focusing on young designers. Starting with "The Forms of Prayer (a total of four works)," which is on display this time, WOW plans an exhibition of works to be produced and unveiled for the 25th anniversary. By all means, please pay close attention to the path WOW is taking toward its 25th year. Specifically, WOW gazes at its roots, presentations, and techniques and continues to engage in creations for the sake of making even more strides toward the future.