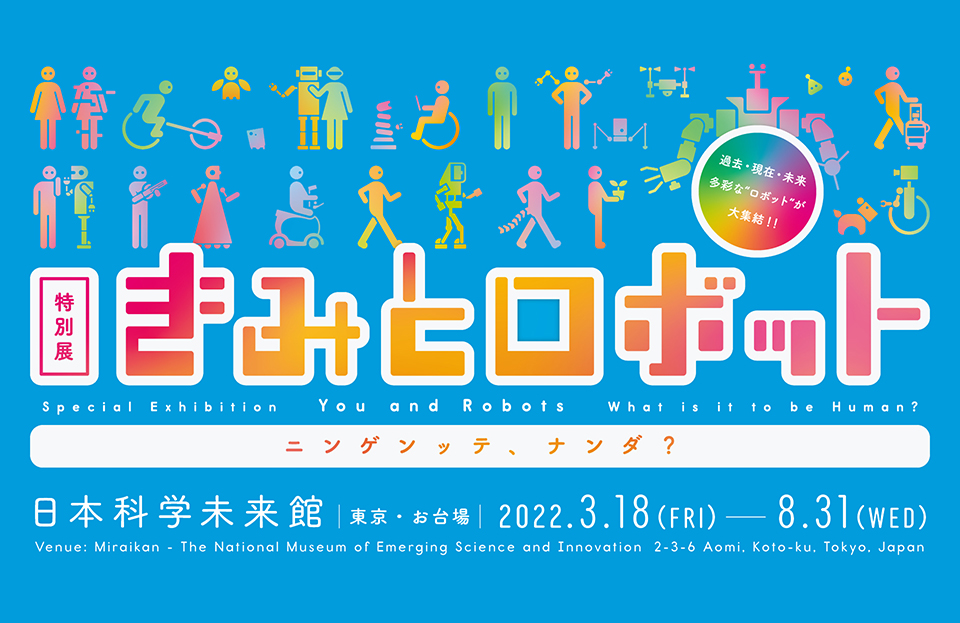 Miraikan Special Exhibition: You and Robots ― What is it to be Human?
WOW magazine 197 - Mar. 31st, 2022
"Special Exhibition: You and Robots ― What is it to be Human?", which opened on Friday the 18th March, is the most ambitious robot exhibition in Japan's history. 130 robots, of around 90 different varieties, have been gathered in Odaiba, Tokyo for the event. WOW was responsible for the planning, direction, and production of the installation found in the "You and Robots ― What Does the Future Hold?" zone.
About the installation
The future of humans, and the future of robots. These two futures intersect in this experiential installation. The exhibition's final zone, "You and Robots ― What Does the Future Hold?", contains a film screen and 4 gates. When you pass through the gates, you'll find mirrors projecting stories that depict the future of robot and humankind. These stories are depicted at random, like a roulette, and offer us a chance to consider what our future with robots might entail.
"You and Robots ― What is it to be Human?" Overview
It has been over 100 years now since the word 'robot' was first conceived by the writer Karel Čapek.
The field of robotics has developed and expanded in many ways since then, and continues to do so, with robots now being indispensable to human society. From production robots in factories, to humanoid robots that move like robots, to Partner Robots that almost feel like a part of the family, and even digital clones created from photographic and vocal data; the term 'Robot' covers a diverse range of definitions and concepts. Conversely, the relationship between humans and robots has become multi-faceted and complicated. What are robots to us? How do we feel about them? What kind of relationship will we have with them in the future?
This exhibition presents the largest ever variety of robots in one place, and asks visitors to consider "What is it to be human?". How should we address robots and other aspects of technology? How do we conceive the future? These questions and more are asked as visitors enjoy coming into contact with a wide variety of robots in an interactive experience at this extensive special exhibition.
▶
Official Website
Event Outline
Period:Friday, March 18 to Wednesday, August 31, 2022)
Venue:Special Exhibition Zone 1F, Miraikan
Opening Hours:10:00-17:00 *Last admission 30min. before closing time.
Days Closed:Tuesdays (However, will be open March 22 to April 5, May 3, and July 26 to August 30)
Admission Fees:Adults (19 and older): 2,100 yen (1,900 yen)
Children (Elementary school students to 18) 1,400 yen (1,200 yen)
Preschool Children (3 or older, not yet elementary school student) 900 yen (700 yen)
* Fees in parentheses () are for groups of 8 or more
*Permanent exhibitions are included in admission
*The Dome Theater costs extra (reservations required)
*Admission is free for children under 3 years old
*Admission is free for holders of a disability certificate, and for one companion
*Numbered tickets may be handed out to prevent crowding in the venue, or limitations placed on entry
*The period the exhibition is held and other details may change
*The content of the exhibition may change without notice
*For the latest information, please check the official website listed below