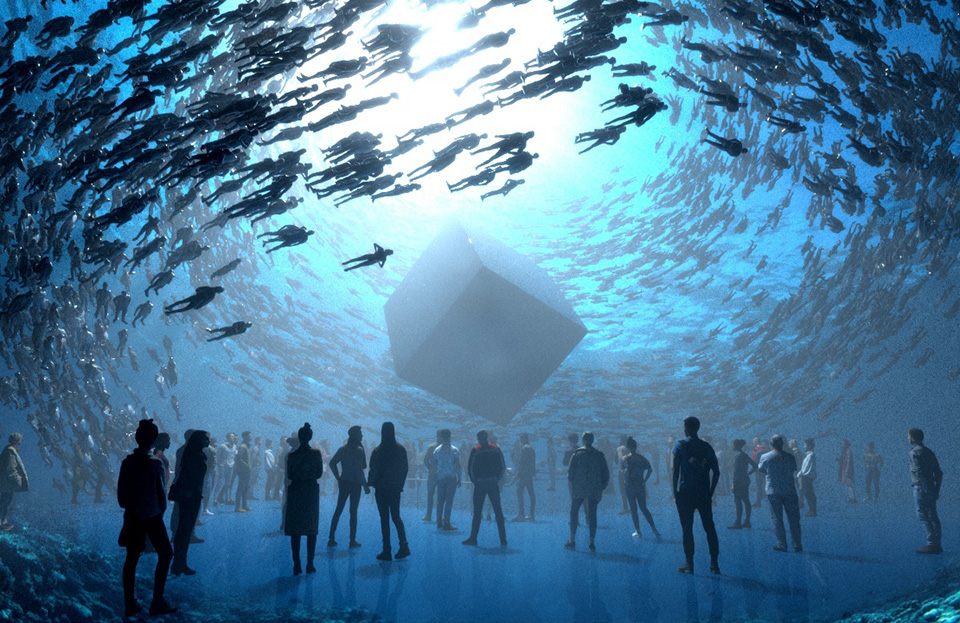 Expo 2025 Thematic Project "Forging Lives" - Creation Team Participation Confirmed
WOW magazine 199 - May. 11th, 2022
We would like to announce that WOW will be participating in Expo 2025 (Osaka, Kansai, Japan) 's Thematic Project "Signature Pavilion 'null²'" under OCHIAI Yoichi, as the creation team covering all planning and video content creation and production.
Expo 2025 Osaka, Kansai, Japan is an international exposition held at Yumeshima, an artificial island on the waterfront in Osaka, for 184 days from 13 April 2025 (Sun) to 13 October 2025 (Mon). Thematic project "Signature Pavilion" is a key initiative under the theme "Designing Future Society for Our Lives" of Expo 2025 Osaka, Kansai Japan. OCHIAI Yoichi is one of 8 thematic project producers for Signature Pavilion, and in charge of "Forging Lives" pavilion's null².
With the grand theme of "Forging Lives," and basing off of Mr. OCHIAI's statement, the pavilion is designed and planned in a way to provide an experience that allows an opportunity to rethink what it means to "live." The pavilion also aims to provide an only experience through specially selected technology.
■ About thematic project Forging Lives pavilion
The thematic project 'Forging Lives' aims to combine nature and digital technology to capture the moments when polished lives and art emerge and develop a future vision. The project will give a picture of a new form of nature combined with digital technology, which can be called 'digital nature,' and offer the experience of making all phenomena synesthetic like music.
The pavilion itself will be a monument that converts unknown landscapes and a media art apparatus. People will be able to see landscapes that are made coordinative through technological infrastructure.
*Quoted from
Expo 2025 Masterplan
■What is the Signature Pavilion?
It is named "Signature Pavilion" because the thematic projects are symbolic and representative projects of Expo 2025, and because the pavilions, which are created by eight experts, are also a "signature piece" in which the themes are deeply discussed from the producers' respective philosophies. Eight project producers will interpret and develop Expo 2025's theme, "Designing Future Society for Our Lives," from their own unique perspectives, and build pavilions that will connect people living in the future.
■Thematic projects & Thematic Project Producers
・Dynamic Equilibrium of Life "I am You"
Quest of Life
FUKUOKA Shin-Ichi (Biologist, Professor, Aoyama Gakuin University)
・LIVE EARTH x SPACE LIFE
Totality of Life
KAWAMORI Shoji (Animation director and mechanic designer)
・Testimony of Life
Embracing Lives
KAWASE Naomi (Filmmaker)
・EARTH MART
Cycle of Lives
KOYAMA Kundo (Broadcast writer and scriptwriter)
・Future of Lives
Amplification of Lives
ISHIGURO Hiroshi (Professor, Osaka University Visiting Director, ATR Hiroshi Ishiguro
Laboratories)
・Playground of Life "Jellyfish Hall"
Invigorating Lives
NAKAJIMA Sachiko (Musician, mathematician and STEAM educator)
・null²
Forging Lives
OCHIAI Yoichi (Media artist)
・Co-being
Resonance of Lives
MIYATA Hiroaki (Professor, Keio University)
▶
Japan Association for the 2025 World Exposition