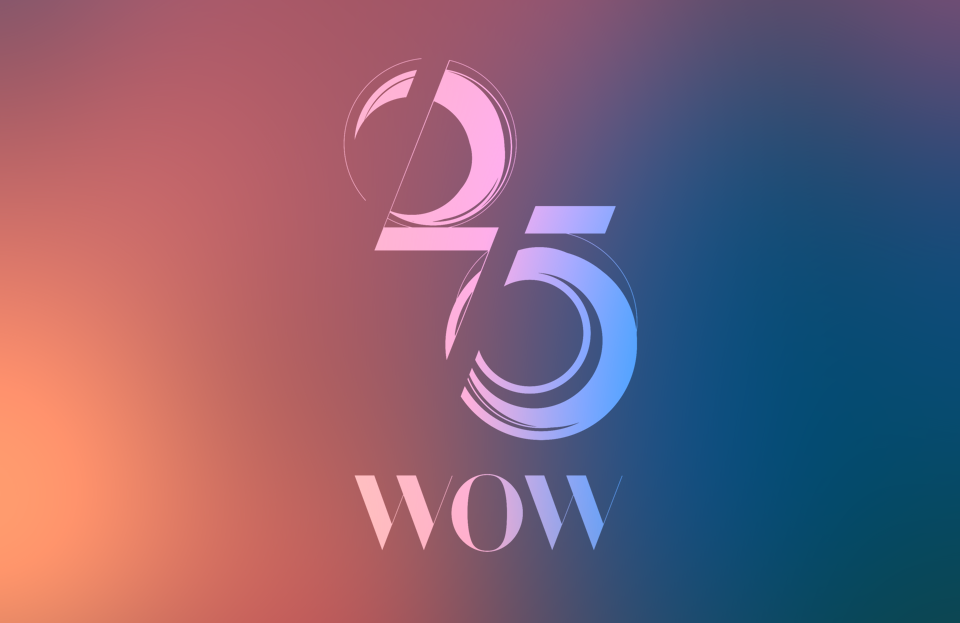 Celebrating 25 Years with an Entirely New Exhibition "Unlearning the Visuals" to Open!
WOW magazine 201 - Jun. 15th, 2022
From October 15 to 30, 2022 WOW will host an exhibition introducing brand-new original works for the very first time: "Unlearning the Visuals." This is the second large-scale exhibition to display WOW works to the public, following on from "WOW Visual Design Studio: WOW animates the world," a retrospective exhibition held in 2018 to mark the studio's 20th anniversary.

The previous exhibition featured both new works and select works from our archives. For this new exhibition to mark our 25th anniversary we plan to display a range of newly created and wholly original works. A variety of works that showcase the diversity in WOW's expressions will be displayed, including powerful visual works that utilize the expansive spaces of Warehouse TERRADA, experimental visual works, and others that encourage visitor interaction.

The driving creative force behind this exhibition is the up-and-coming creators who will take WOW forward to the next generation. Equipped with outstanding technical and expressive skills they are creating an exhibition suitable for the next generation. Visitors will be able to take the plunge into new frontiers of visual experiences that draw on 25 years of creativity, while looking to the future.

Creating original works based on the theme of "Unlearning the Visuals"
During the 25 years since the establishment of Visual Design Studio WOW, we have consistently sought to expand our field of activities, based on a concept of tangible and intangible visuals being the focus of all visual design. This new exhibition, held to mark our 25th anniversary is not being planned as a retrospective of past works, but rather as a springboard to new challenges, looking ahead to our next landmark 30th anniversary.

The theme is "Unlearning the Visuals." By "unlearn" we mean unraveling the things that we have learned to date, through both thought processes and with our bare hands, to then reacquire them as a new and visceral part of our being. WOW, which has continually opened up new horizons in visual expression, will step up to the challenge of acquiring new forms of expressive power, all the while nourished by the skills and sensitivities we have believed in and nurtured until now.

Exhibition overview "Unlearning the Visuals"
Dates: October 15-30, 2022 *No closing days throughout exhibition period
Venue: Warehouse TERRADA E HALL
Address: Higashi Shinagawa 2-1-3, Shinagawa-ku, Tokyo
Access: 5-min. walk from Exit B, Tennozu Isle Station, Rinkai Line, or 5-min. walk from Central Exit, Tennozu Isle Station, Tokyo Monorail Haneda Airport Line
Official site: Planned to open end of August 2022
Organizer: WOW
* Details about entrance charge and related events will be released at a later date.

Unveiling of the WOW 25th Anniversary Logo Movie
To commemorate our 25th anniversary we held an in-house competition to design a "WOW25" themed logo. The design selected is based on a concept that uses circles to represent a group of members with differing personalities and the overlapping of those personalities, which together combine to create infinite (∞) expressive power.
A group of in-house volunteers worked to further develop the logo and create a logo movie. In it the designers each interpret and express WOW's 25-year journey, and what WOW means for them from a collective or individual perspective.
Details of the logo design and the logo movie can be found at wowlab's WOW25th Anniversary Project website. Through this project, in the run-up to our 25th anniversary we plan to share original works from our archives, and also the creative processes for our all-new exhibition "Unlearning the Visuals."
▶
WOW 25th Anniversary Project