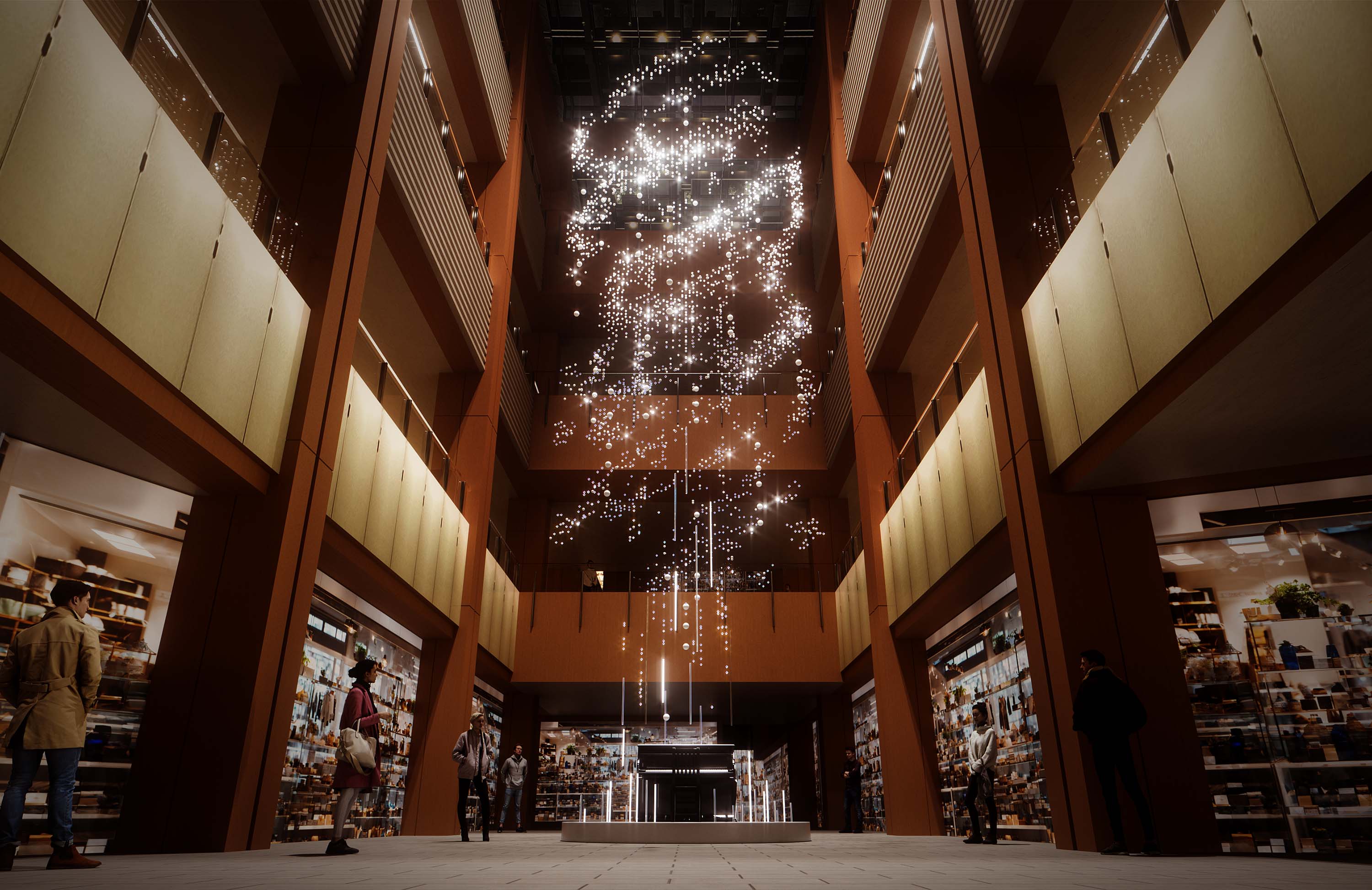 Unveiling a new Christmas installation during MIDTOWN CHRISTMAS 2023
WOW magazine 218 - Nov. 1st, 2023
WOW will unveil its new installation, "some snow scenes," during MIDTOWN CHRISTMAS 2023, to be held in Tokyo Midtown from Thursday, November 16th, to Monday, December 25th. With the concept of "BE ENCHANTED...," MIDTOWN CHRISTMAS 2023 will have on hand various content that you can enjoy during the day and at night, indoors and outdoors. Magical Christmas scenes will adorn Tokyo Midtown. Also, WOW and musician Ayatake Ezaki will carry out a live performance, "ROPPONGI STREET THEATER #04 Christmas Special," for one night only on Saturday, November 25th.
▶
MIDTOWN CHRISTMAS 2023
New installation "some snow scenes"
Countless spheres, designed to resemble gently drifting snow, will convey a range of winter scenes. These scenes will include moments of silent and profound snowfall, as well as cold and blustery snowstorms. As time passes, the snow will gradually melt, forming icicles. When the light emanating from the icicles drop on the piano keyboard, it triggers the production of musical notes from the piano, which represent the passage of time as we await the arrival of spring. Additionally, this musical composition will allow us to savor the beauty of the current winter moment.

Information about the exhibition "some snow scenes"
Period: November 16th to December 25th
Hours: 11:00 to 23:00
Place: Galleria B1
Fee: None
Organizer and planner: Tokyo Midtown
Design: WOW
Musical composition: Ayatake Ezaki
* Event times and specifications may be subject to some changes.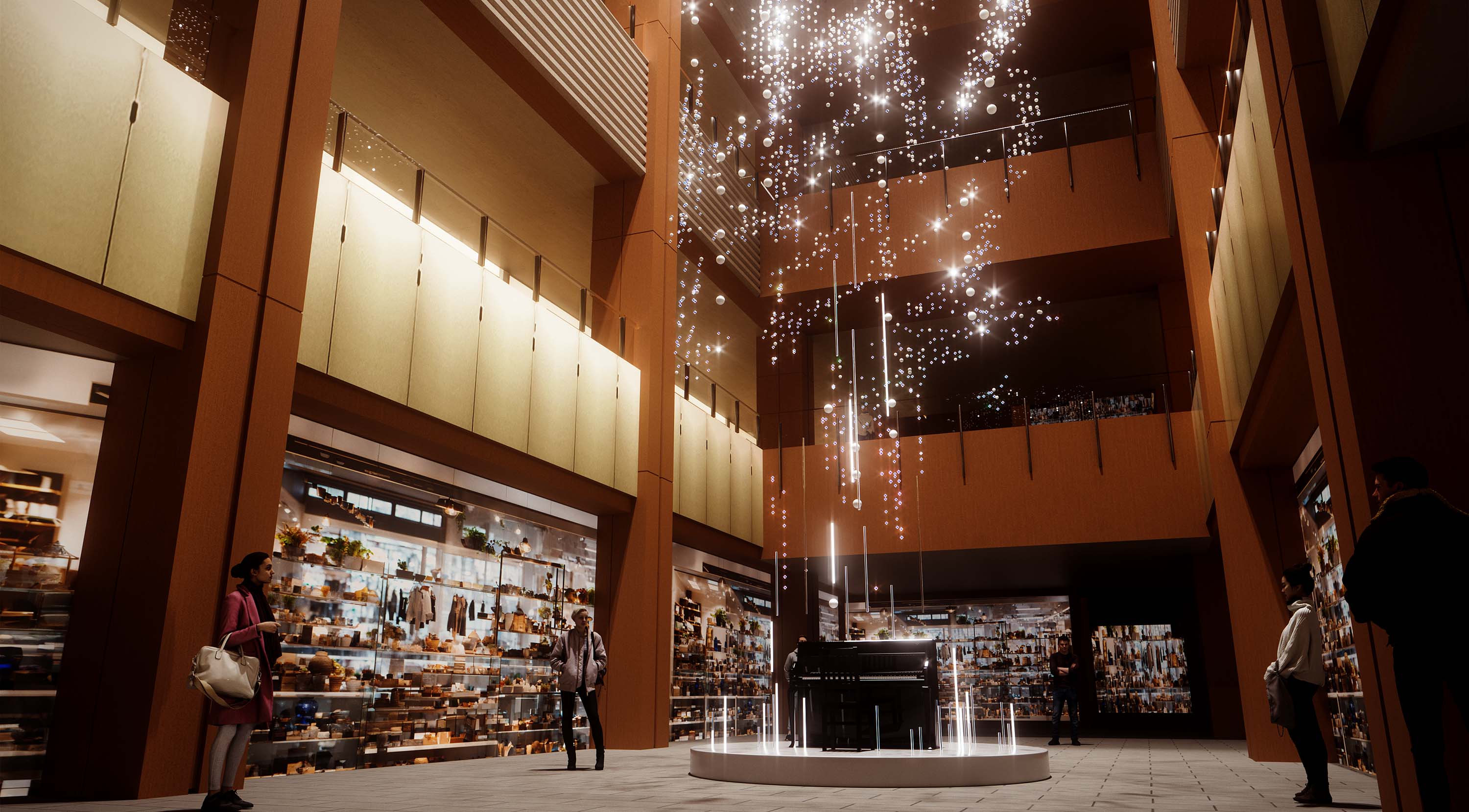 ROPPONGI STREET THEATER #04 Christmas Special
The architecture and public art in town will transform into the stage. Deliberately turning the spotlight on the architecture and art, whose existence there is obvious, and carrying out the performing arts, often seen in theaters, in a public space where they can be enjoyed by anyone will link the architecture, art, performers, and spectators. This time, which will be the fourth time of the event, will involve a collaboration with "some snow scenes," a Galleria installation handled by WOW. The video production by WOW and the piano performance by Ayatake Ezaki, who handled the musical composition of the Galleria installation, will feature together with "Ishinki," a sculpture by Kan Yasuda.
Schedule: Saturday, November 25th
Hours: 19:00 / 21:00 (about 25 minutes each time)
Place: Plaza B1, the site specially prepared for "Ishinki"
Performance: Ayatake Ezaki
Video production: WOW
Fee: None
Applications: advance registration required (
Peatix
)
Capacity: 80 persons each time (planned). * Applications will be handled on a first-come-first-served basis. As soon as the capacity is reached, the handling of applications will cease.
Organizer and planner: Tokyo Midtown/Roppongi Future Talks
Cooperation of: Yamaha Music Japan Co., Ltd./Prism Co., Ltd.
Ayatake Ezaki
A musician. He was born in Fukuoka in 1992. He learned to play the piano starting at age 4, and he learned to compose starting at age 7. He graduated from the Department of Music at Tokyo University of the Arts. He completed a master's degree program in graduate school at the University of Tokyo. In addition to serving as the keyboardist for WONK and millennium parade, he participates in the recording and production of the works of many artists, such as King Gnu, Vaundy, and Kenshi Yonezu. In addition to handling background music, beginning with the 2021 movie "Homunculus," he continues to work while freely crossing over into various fields, such as supervising music labels and participating in arts education.
Ayatake Ezaki Website