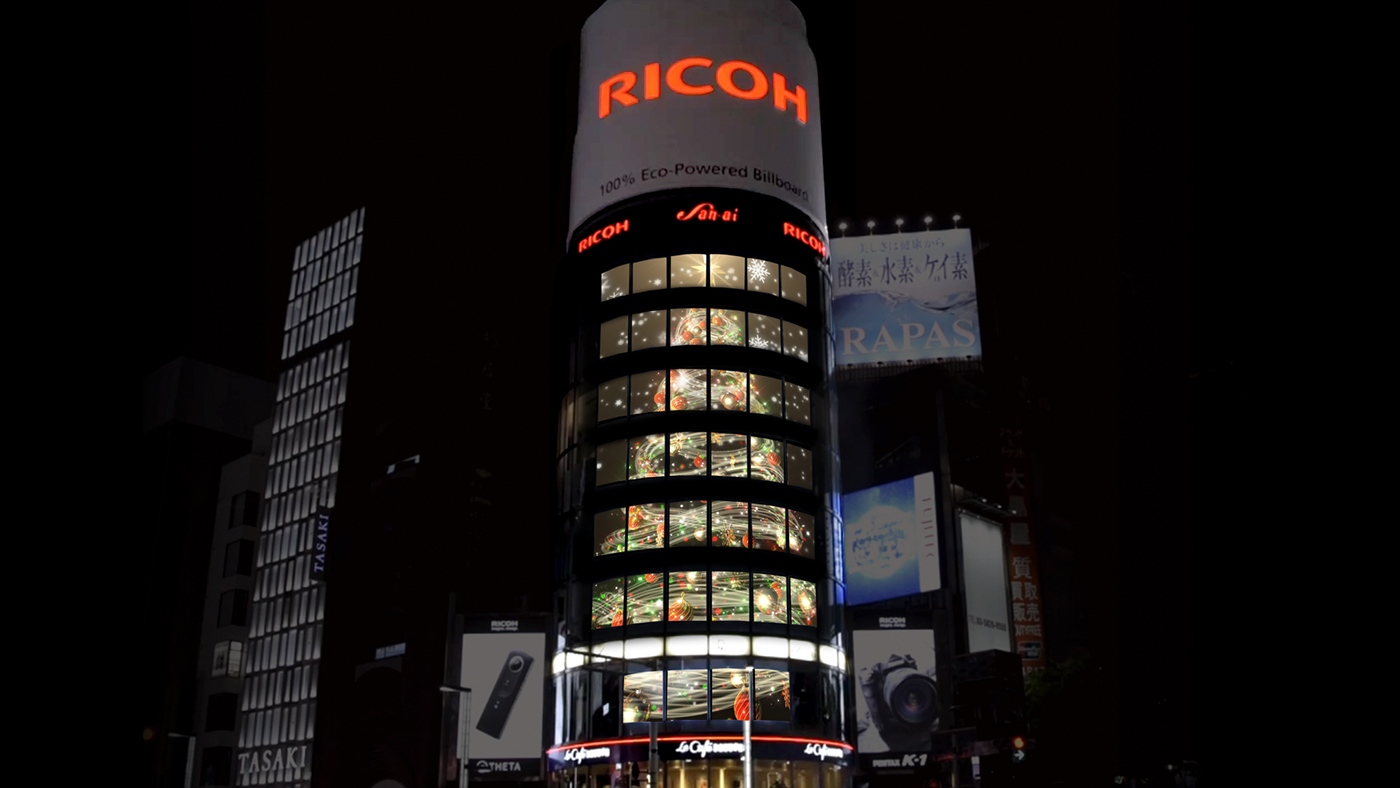 Christmas Projection Mapping
WOW magazine 130 - Dec. 22nd, 2017
Christmas Projection Mapping at San-Ai Dream Center on the Ginza 4-Chome Crossing
From Dec 22nd, 2017 (Friday), WOW is carrying out a projection mapping in the San-Ai Dream Center at the Ginza 4-Chome crossing, utilizing 80 Ricoh projectors. Our first display will be limited to a run for four days, through to Christmas Day (Monday). We will illuminate the Christmas streets of Ginza with fantastical imagery utilizing the novel cylindrical glass surface of this historical building that, after being constructed 54 years ago, has come to represent Ginza.
In Ginza at night, the streets are a cauldron of emotions as people are finishing their day. Some people have hearts filled with the excitement of shopping, some are wearily heading home from work, others come sightseeing from overseas... It is out of our wish to create something that will bring joy to these visitors to Ginza, even if only for a moment, that we designed a beautiful Christmas tree that is like a ribbon of light descending from the heavens.

Also, in the beginning scene of our imagery, we have created an animation that brings to mind the unique interior design of the San-Ai Dream Center. We have made full use of the design sense of the building to create a production that will appear to envelop its entirety; we have also made sure it will be appropriate for the beautiful streets of Ginza that remain in harmony with tradition.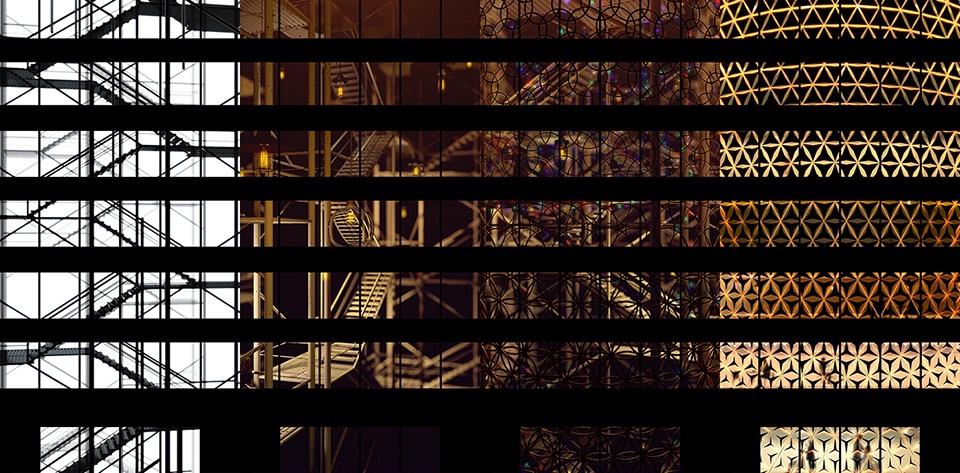 Ricoh Company, Ltd. began this endeavor with the desire to bring joy to visitors of Ginza, Tokyo, which has acted as a source of so much great culture. In this projection mapping, we use 80 ultra short-focus Ricoh projectors capable of 48-inch projection from the ultra-close range of 11.7cm. Because of the ultra-close range projection capabilities of the Ricoh projector, projection has become possible in spaces once deemed too difficult, and we have been able to carry out this type of large-scale projection mapping performed by casting light onto the inside of the building's glass. The synchronization of 80 projectors, the projection of images onto a curved surface following the cylindrical shape of the building, the techniques which allow the linking of the output of images from numerous projectors, and remote management of the devices; all of Ricoh's technological innovation is employed.

Projection Mapping at San-Ai Dream Center
Date:Christmas Special Performance December 22 (Fri) - December 25 (Mon), 2017 / Regular Performance from December 26 (Tue), 2017
Time:19:00〜23:30
Venue:San-Ai Dream Center Building (at the Ginza 4-Chome Crossing)
Address:5-7-2 Ginza, Chuo-ku, Tokyo