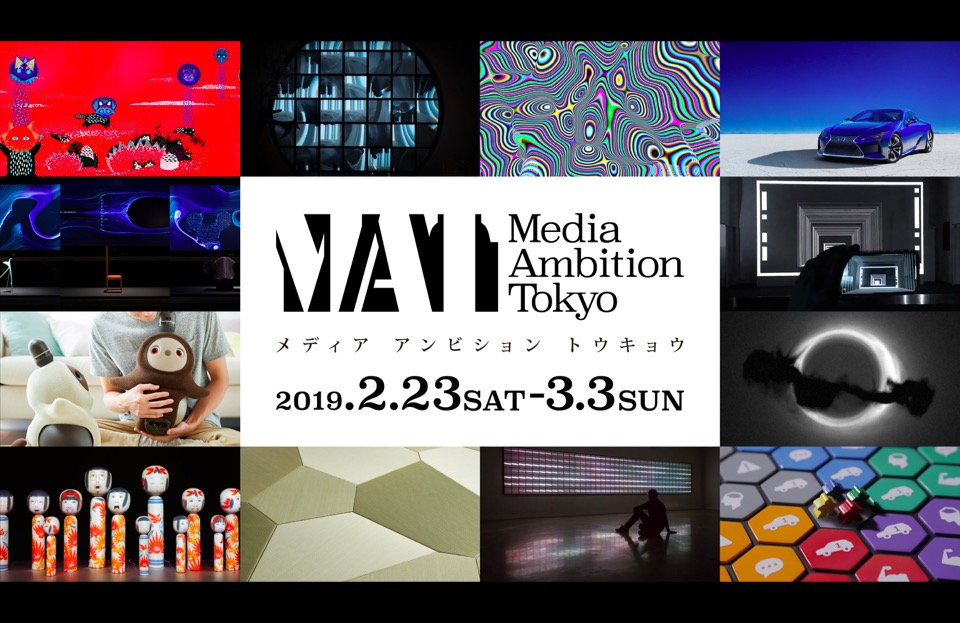 YADORU at Media Ambition Tokyo 2019
WOW magazine 147 - Feb. 15th, 2019
From February 23rd (Sat) to March 3rd (Sun) 2019, a technology culture festival to create a future called "Media Ambition Tokyo 2019" will be held. For the first time in Tokyo, WOW will display kokeshi doll*1 projection mapping piece "YADORU" presented at the Yamagata Biennale in September 2018.

About "YADORU"
"Kokeshi" were established mainly at Tohoku (northeastern Japan) hot-spring resorts. Today, there is an impression that kokeshi are ornaments, but originally they were used familiarly as a child's doll toy. The designs include wishes such as "huge harvest of the 5 grains" and "growth of children." The kokeshi were popularized as a spiritual object that protects people, and people have embedded various feelings into the kokeshi that also function as souvenirs filled with prayers.
"YADORU" is based on the theme of folk toys handed down from Tohoku since long ago, and after studying the tradition through fieldwork, including workshop tours, this is one piece in an experimental sequence created through our own expressive techniques and interpretation. This is an endeavor to view a familiar handicraft from a slightly different perspective by projecting the visitors' face onto non-painted kokeshi.
In this exhibition, the faces of about 130 Yamagata prefecture residents who were photographed for the Yamagata Biennale 2018 exhibition will be projected, as well as another type of interactive display where visitors can participate in the piece by being photographed.
Media Ambition Tokyo
Media Ambition Tokyo 2019 "MAT" will be its' 7th year in running. It is a real-life showcase of top-notch technological culture that takes an experimental approach o urban implementation. Super-edgy artwork, video, music, performances, and talk shows will be hosted in the center of Tokyo such as Roppongi, Shibuya, Daikanyama, Ginza, Iidabashi, Odaiba and Kudan.
Thanks to various participants from Japan to oversees and co-sponsored of this program, MAT is continuously expanding and growing as the organization which presents diverse urban technology art programs. The urban system of transportation, communication and information have been changed and will be changing toward and beyond 2020.
Tokyo will show the world that potential of technology in creating the city's future. And, MAT aims to present the technology art festival which substantiating of innovative movement based on experimental validations.
Date:February 23 (Sat) - March 3 (Sun), 2019
Time:10:00〜22:00
Venue:ROPPONGI HILLS, Mori Tower 52F, TOKYO CITY VIEW
Admission:Tickets to TOKYO CITY VIEW | Adult1,800 yen / University or Highschool student1,200 yen / Child (Age 4 up to Junior highschool student) 600 yen / Senior (Ages 65 & over) 1,500 yen
▶
Media Ambition Tokyo
*1: Kokeshi are simple wooden dolls with no arms or legs that have been crafted for more than 150 years as a toy for children. Japanese dolls, originally from the northeastern region (Tohoku) of Japan. They are handmade from wood, have a simple trunk and head with a few thin, painted lines to define the face. The body often has floral and/or ring designs painted in red, black, and sometimes green purple, blue or yellow inks, and covered with a layer of wax. One characteristic of kokeshi dolls is their lack of arms or legs.