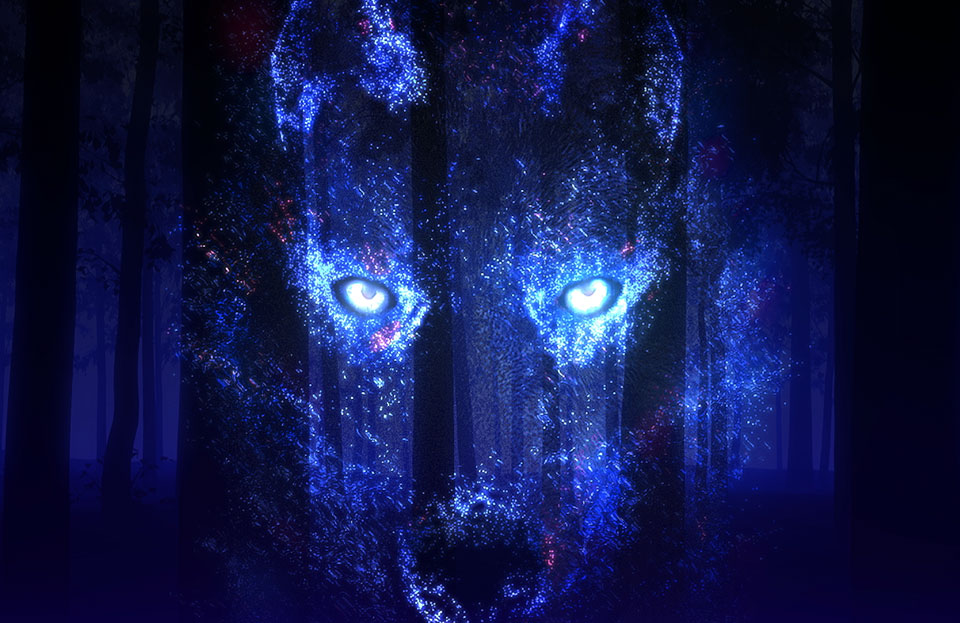 A performance that unites digital art with Ainu traditional dance, "Akan Yukar - Lost Kamuy", has begun.
WOW magazine 149 - Mar. 27th, 2019
The Akan Ainu Craft Association and the Japanese Regional DMO, who are working to spread awareness of Ainu traditional culture, formed the NPO, Akan Tourism Association Town Development Promotion Organization in order to develop the tourist area. They are the ones who renewed the program by the Lake Akan Ainu Theater "Ikor"*. The new program that fuses digital art with Ainu traditional dance, "Akan Yukar** - Lost Kamuy," began public performances on March 19th, 2019 (Tuesday). WOW was in charge of the production and staging of the videos used on stage.

This program was created so that the Ainu people of Lake Akan Onsen could show their traditional songs and dance that has been passed down through generations to domestic and international visitors who have gathered here in one place. Creators such as Nagi Yoshida, Kuniyuki Takahashi, UNO, WOW, and Daisuke Sakamoto (JTB communication design), who are recognized in their various fields of photography, digital art, and sound design gathered at Lake Akan. In order to produce "Lost Kamuy," they combined Ainu traditional dance, modern dance, 3D computer graphics, and 7.1 channel surround sound, and brought it to life on stage with five projectors.

The narrative of this work revolves around the theme of "symbiosis between Ainu people and the Hokkaido wolf" and is reproduced on stage with dance and digital technology. You can fully experience the Ainu's view of the world through the songs and dance that were born out of their everyday lives in which they respect and coexist with nature. Also, the "Ainu Traditional Dance" and "Iomante Fire Festival" programs, which introduce Ainu culture through traditional and innovative performances, have also been renewed.

* "Ikor" means "treasure" in the Ainu language.
** "Yukar" is a word meaning, "an epic poem" which has been passed down by Ainu people.
The story of "Akan Yukar - Lost Kamuy."
The Ainu believe that kamuy (meaning "gods" in the Ainu language) live in animals, plants, and elements such as water, fire, and wind. The Hokkaido wolf, in particular, is called, "horkew kamuy," the god of hunting. It is said that this kamuy taught the Ainu how to hunt and is a special kamuy who will sometimes help Ainu. However, the Hokkaido wolf greatly decreased in numbers during the Meiji Period and is now extinct. Horkew kamuy, the lost kamuy, who lived together with the Ainu people in the Akan forest, is revived on stage. The kamuy who are held in awe and respected by Ainu, are brought to the stage through traditional and modern dance in "Akan Yukar - Lost Kamuy." The world of yukar (epic poem) which has been passed down by the Ainu people as an oral tradition until today is evoked here at Lake Akan.
Akan Yukar - Lost Kamuy
Performance schedule: Starts from March 19, 2019
Performance times: March to April, once a day at 9:15 PM / May to June, Weekends & holidays, and July to October, twice a day at 3 PM and 9:15 PM.
Performance Duration: about 40 minutes.
Ticket price: Adults ¥2,200, Elementary school students ¥600.
Purchasing tickets
Where to purchase: Lake Akan Ainu Theater "Ikoro" ticket counter, or Lake Akan Onsen Town Inn front desk.
*Group reservations (10% discount) are available for groups of 15 or more. Please see below to contact us for more details.
Lake Akan Ainu Theater "Ikoro" (within Lake Akan Ainu Kotan).
TEL: 0154-67-2727 / FAX: 0154-67-2657
Email:
akanainu@gmail.com
▶
Akan Yukar "LOST KAMUY"