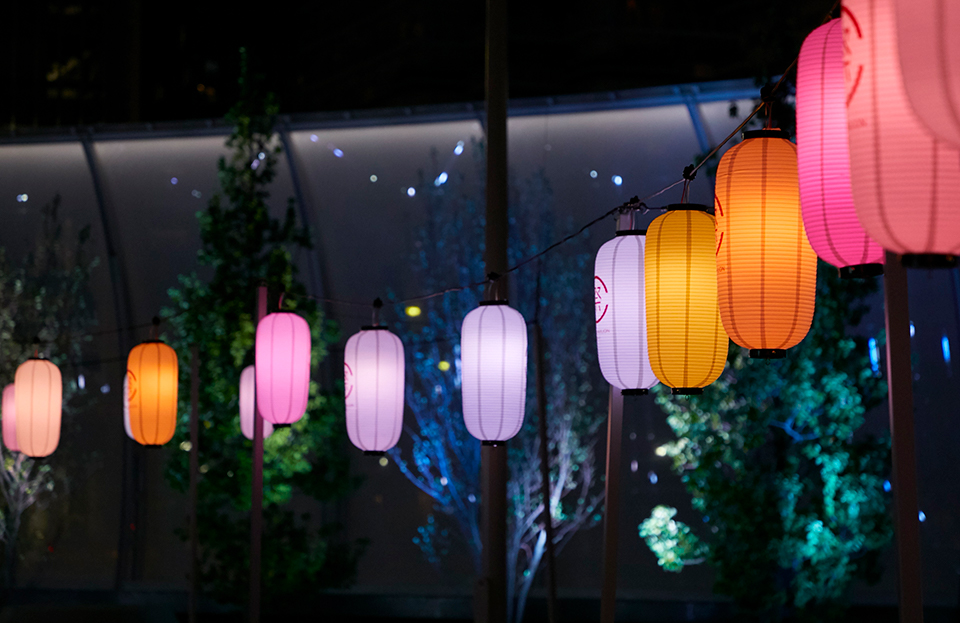 NISSAN PAVILION ENNICHI
WOW magazine 171 - Oct. 5th, 2020
At the "NISSAN PAVILION," which opened in August for a limited time as an interactive entertainment facility, a special fair called "NISSAN PAVILION ENNICHI" will be held from October 3 (Saturday) and come to an end on October 23 (Friday). The fair site will be born out of a fusion with digital art. WOW will participate in this event by planning and directing the digital art installations, in addition to the
installation
currently on display in the "THE CITY" area.
Interpret the "Temple Festival," which is said to be a day that has ties to Shintoism and Buddhism, in the "Nissan Pavilion" way. It will be carried out whilst thinking about the manner in which cars, people, towns, and energy will be connected heading into the future, valuing the connections with local Yokohama, and appreciating the 'Ties' with all the people who are connected through Nissan Pavilion. Also, the favorite shooting galleries and local Yokohama restaurants will be opened at the fair as stalls after carrying out COVID-19 measures.
WOW is in charge of the digital art installation in the GARDEN area that links the light from paper lantern lights with sidewalk projection mapping. The sidewalk is likened to a stream that stretches for about 100 meters, and paper lanterns line up alongside it. The light reflected on the surface of the water, and the abstract shapes, will remind the people visiting the fair of various landscapes.
What is the "Nissan Pavilion"?
An interactive entertainment facility consisting of four booths, "THE THEATER," "THE LIFE," "THE CITY," and "NISSAN CHAYA CAFE." Each of the four booths is equipped with a mechanism that makes full use of Nissan Motor's advanced technology, expressing the future mobility society envisioned by "Nissan Intelligent Mobility." Also, in the building there is an exhibition of the new crossover EV "Nissan Aria," and you can also have a ride-along experience too.
▶
NISSAN PAVILION
NISSAN PAVILION ENNICHI Projection Mapping
Date: Sat, October 3rd, 2020- Fri, 23rd October, 2020
Time: Monday- Thursday / Sunday 17:00 - 19:00, Friday- Saturday 17:00 - 20:00
Address: 6-2-1 Minato-Mirai, Nishi-ku, Yokohama-shi, Kanagawa Prefecture
*The days it is closed are based on the days that the 'Nissan Pavilion' is closed.
NISSAN PAVILION ENNICHI
Date: Sat, October 3rd, 2020- Fri, 23rd October, 2020
Time: Monday- Friday 11:00 - 19:00, Saturday - Sunday 10:00 - 19:00
Click here for an outline and contents▶
NISSAN PAVILION ENNICHI
Related Articles▶
NISSAN PAVILION Yokohama Open
Play Movie▶
NISSAN PAVILION Yokohama