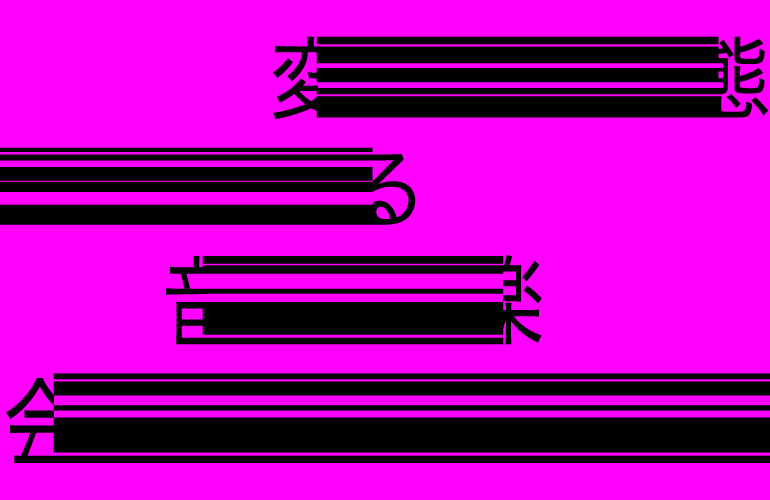 Transforming Orchestra: Yoichi Ochiai x Japan Philharmonic Orchestra Project Vol. 2
WOW magazine 135 - Jun. 15th, 2018
Orchestra was born 300 years ago. Since then, forms of media such as photographs and videos were created and have continued to evolve, but the structure of orchestra has not changed at all. It remains the same with only a conductor and musicians.

At this concert, the structure of orchestra will be transformed by a visual system. This "instrument" will be playing a score newly developed by Yoichi Ochiai. The orchestra will transfigure with each musical piece. In the past, music has always followed the visual cues, and it has been made to match the visuals. But now, there will be a DISRUPTION® in this kind of master-slave relationship. The orchestra will be reconstructed to give the music and visuals a synchronized relationship. Modern wizard, Yoichi Ochiai, will transform the orchestra into an experience not just for the ears and eyes, but for the whole body.

WOW participates in this project as a "visual musician." We try to translate the intense composition and the richness of the sounds of the orchestra, conveying it as a new visual element. The visual designs bridge understanding so that even people who are not familiar with orchestra and classical music can enjoy this performance.
Transforming Orchestra: Yoichi Ochiai x Japan Phil Project Vol. 2
Date:Monday, August 27th, 2018
Time: 19:00 *Doors open 30 minutes prior. Pre-concert talk by Yoichi Ochiai at 18:50.
Venue:Tokyo Opera City Concert Hall Takemitsu Memorial
Cast:Japan Philharmonic Orchestra / Yoichi Ochiai (Director) / Hikaru Ebihara (Conductor) / WOW (Visual Design) / Yoko Ebara (Assistant MC)
Set List:Dvorak:Slavonic Dance No.1 / Brahms :Hungarian Dance No.1 / Saint-Saens :Symphonic Poem
(Violin Solo:Izumi Kamata) / Bizet Dance Suite (Hikaru Ebihara ver.) / Farandole / Habanera, Aragonaise, Seguidilla, Gypsy Dance / Ravel :Bolero
Organizer:Japan Philharmonic Orchestra
Corporation:Pixie Dust Technologies, Inc., TBWA\HAKUHODO, FUJITSU LIMITED, PRISM Co, Ltd
Promotion:Arts Council Tokyo
Buy Tickets:Japan Philharmonic Orchestra
*Please note that pre-school children are not allowed at this concert.

"Tokyo Light Odyssey" won at Webby Awards
Webby Awards, presented every year by The International Academy of Digital Arts and Sciences, is regarded as "the academy awards of the internet" and is considered the most prestigious award of the online world. With over 13,000 entries from all 50 U.S. states and 70+ countries—and 3 million votes cast by 700,000 people in the Webby People's Voice Awards—the 22nd Annual Webby Awards was the biggest in their history. WOW was awarded in the Film & Video: 360-Video category with "Tokyo Light Odyssey," and was also nominated in the Film & Video - Art & Experimental category for the same work.
Tokyo Light Odyssey
From the lights of skyscrapers and homes, to the neon street lights and headlamps of cars and trains in motion… fragments of the city float like stardust out of the darkness against the curtain of the night sky. This new vision of Tokyo is explored with omnidirectional motion graphics.
This work was born from
"Beyond Motion Graphics,"
an internal company project at WOW aimed at exploring new possibilities for motion graphics. In using VR technology, consideration was given as to what kind of images to showcase and express as pieces of art.
▶
Webby Awards
▶
Tokyo Light Odyssey on Webby Awards
▶
Tokyo Light Odyssey