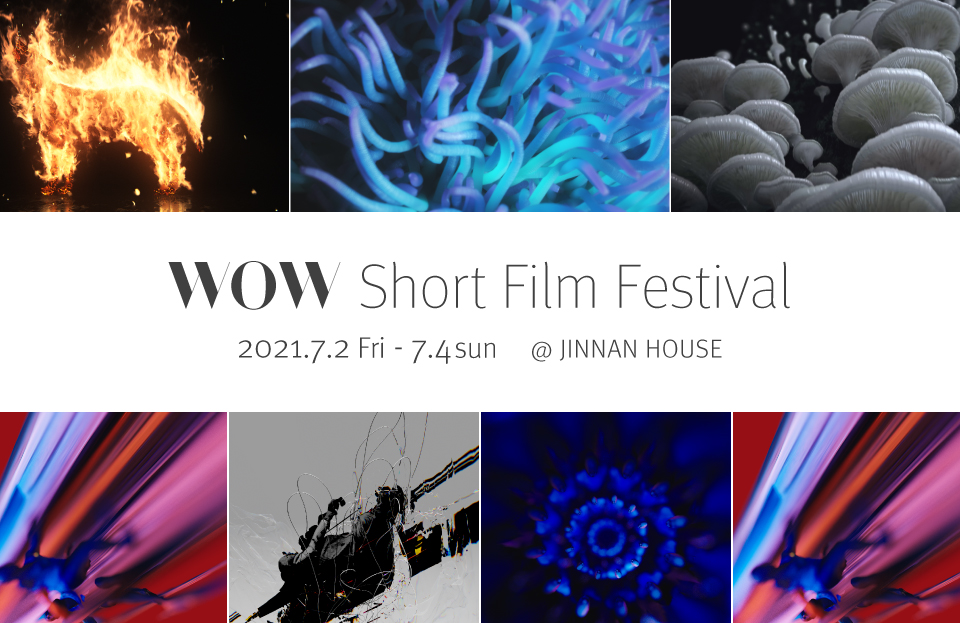 Holding the WOW Short Film Festival
WOW magazine 183 - Jun. 22nd, 2021
The WOW Short Film Festival is an exhibition of WOW's latest video works. It will be held from Friday July 2 to Sunday July 4, 2021 at JINNAN HOUSE, a cafe gallery surrounded by greenery between Shibuya and Harajuku. It will be the premiere screening for new works including "Contour" and "POEM" prior to their release this summer. Stop by and experience the powerful experience on our 220 inch screen.
WOW Short Film Festival
Dates: July 2 (Friday) - July 4 (Sunday), 2021
Time: 11:30 - 20:00 *Closes at 19:00 on the last day
Venue: HAUS STUDIO in
JINNAN HOUSE
Admission: Free *Please place an order at SAKUU in JINNAN HOUSE. Payment is by credit card or transport IC only.
Venue construction and equipment cooperation: PRISM
・Please note that we may take your temperature with a no-contact thermometer.
・Please wear a mask and disinfect your hands with alcohol.
・The gallery will be ventilated every hour to prevent infection.
・The number of people allowed in the screening room is limited. You may be asked to wait.
Latest video work "Contour," "POEM"
「Contour」
Dim wilderness and a man who continues to walk in the same area as if dragging his tired body. The man's afterimages float in space to form a giant agglomeration and cover the man's head. On land, tentacles cling to the man as if blocking him from walking. Eventually, the man falls to the ground and sinks into his inner world.

Modern people, constantly exposed to information and living together with complicated human relationships. Our self-recognized outlines and boundaries fluctuate, change, and dissolve. A film depicting humans living this repetition with a foreign vividness.

The latest filming technology volumetrics were used, it was shot in a dimension studio in London, and the music was created by Max Cooper. The latest original film by a unit of Ryo Kitabatake and Takuma Sasaki, who received the Best of Stash, Gold Telly Award.

Staff
Direction & Visual Design:Ryo Kitabatake / Takuma Sasaki
Colorist:Masahiro Ishiyama
Volumetric Capture:Dimension Studio
Executive Producer:Hiroshi Takahashi
Producer:Ko Yamamoto
Assistant Producer:Ken Ishii

Music and Sound Design:Max Cooper
Mastering:Chris McCormack
Publisher:Manners McDade Music Publishing
「POEM」
After seeing the Jomon pottery with my own eyes, I could imagine—from the unique protrusions and patterns—the scenery, natural phenomenon, the appearance and movement of living things, the sounds, and their textures. The design that contains various fragments of information felt like a poem by the Jomon people. While they do not depict the living beings that the Jomon people consumed to survive, the artifacts conveyed their prayer and awe for the living beings that imbued them with life and I believe it is that energy that gave birth to the grotesque yet beautiful shape of Jomon pottery. This work was designed and created based on this image.

Staff
Planner / Creative Director:Takuma Nakazi
Director / Designer:Hiroshi Takagishi
Designer:Itsuki Maeshiro, Ryoichi Kuboike
Music:Marihiko Hara
Executive Producer:Hiroshi Takahashi
Producer:Yasuaki Matsui