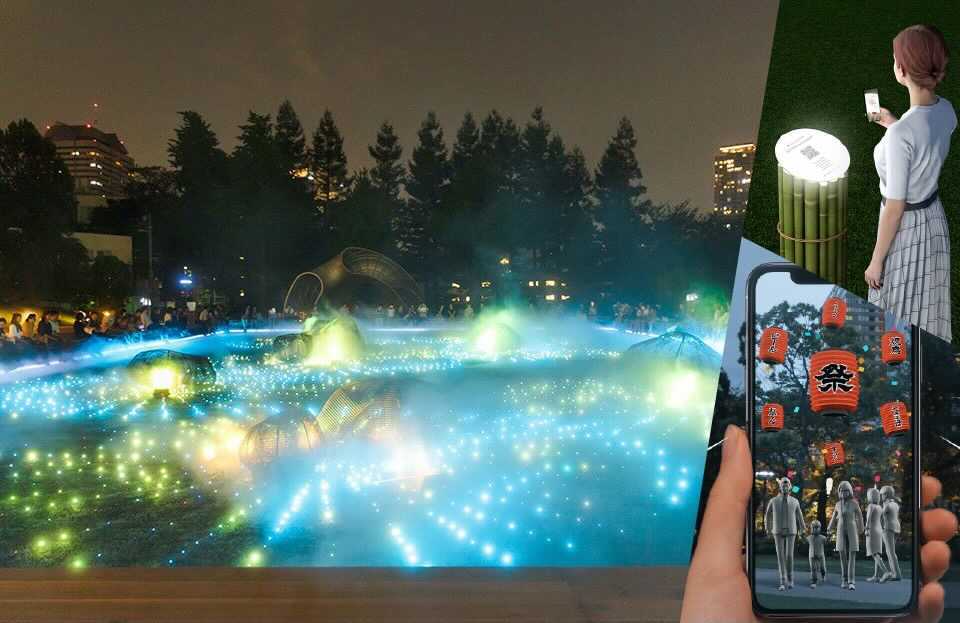 Opening of "Digital Art Garden" and "AR Art Fireworks"
WOW magazine 184 - Jul. 15th, 2021
The "Digital Art Garden," with creative direction and performance led by WOW, is returning to the grass square of Tokyo Midtown. The large installation, in which a 40m x 20m garden is filled with fog and then illuminated, is part of "Midtown Art Palette," starting Friday, July 16th at Tokyo Midtown.

Created additionally this year is "AR Art Fireworks," using seasonal traditions about summer as a motif. By using a smartphone to scan the QR codes located in the bamboo AR stations around the "Digital Art Garden," visitors can enjoy AR fireworks. There are a total of five types of AR firework art.

- Gluttonous lantern
- Waterfall climbing goldfish
- Cooling fans
- Hiding in mosquito incense smoke
- Watch out! Ice Rocket

Everyone is welcome to enjoy the events.
Digital Art Garden
Venue:Grass Square, Tokyo Midtown
Dates:July 16 (Fri) to September 5 (Sun), 2021
    Mist show: 3 p.m. to 10 p.m.
    Light show: 6 p.m. to 10 p.m.
*a special ripple and digital fireworks lighting show will be held every 15 minutes starting from 6 p.m.
Organized by:Tokyo Midtown
Production / Direction:Hakuten, WOW
Award:Good Design Award (2019)
*The time and style of this event may vary.
*The show may be canceled due to inclement weather.
*The mist show may be canceled temporarily for safety reasons when humidity levels reach 75% or higher.
MIDTOWN ART PALETTE
Dates: July 16 (Fri) to September 17 (Fri), 2021
▶
MIDTOWN ART PALETTE