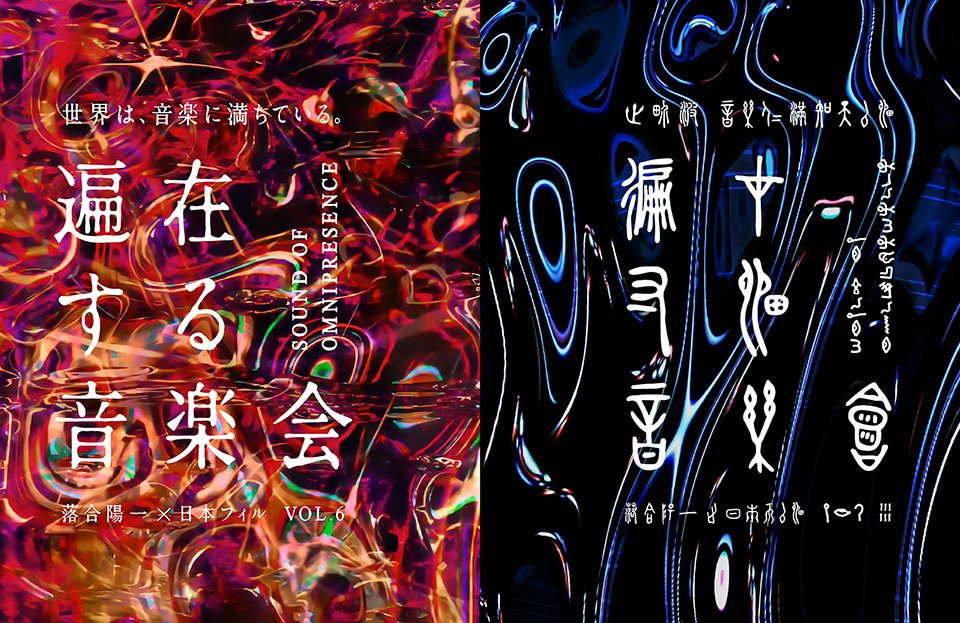 Updating the experience of a concert through technology: "Sound of Omnipresence"
WOW magazine 203 - Aug. 5th, 2022
The "Yoichi Ochiai X Japan Philharmonic Orchestra Project", which began in 2018, is now in its sixth year. It is a project which aims to use technology to update the experience of listening to an orchestra and use art and culture to build a highly diverse society, as well as to disseminate Japanese culture. Focusing on the importance of "physicality" through the synthesis of human beings' five senses, it is working on a wide variety of initiatives to produce such synthesized "physicality" by abolishing the separation between the five senses (the separation between hearing, touch, sight, etc.) This year's theme is "The world is full of music." In this ever-expanding time and space, we reconsider the physical festivity of music.
Trailer Movie 1▶
PLAY
Trailer Movie 2▶
PLAY
WOW has expanded the experience of listening to an orchestra through a visual approach, tackling the theme of the moment as a "Video Performer." This year's performance will create a festive physical experience of music by making the video equipment "omnipresent," locating among the orchestra, behind the stage, as well as among the audience seats on the left and right in order to create a deeper integration of visuals with the music. The videos played along with the music diffuse as light in space. As they blend into it, we will attempt to create scenes that also spread within the audience members.
■Performers
Director/Producer: Yoichi Ochiai
Conductor: Hikaru Ebihara
Video Performer: WOW
"Musicircus" Guests: Akan Ainu (Eiko Yamamoto, Midori Toko, Kayo Watanabe, Emi Shimokura, Fukiko Goukon, Chika Nishiyama), World Heritage Kyoto Daigoji Monks (Yuga Kabese and 5 others), LOVOT, Ryukyu Dance ( [Dance] Yoshikazu Sanabe [Noh chorus] Toshimichi Arakaki, Kenta Tanahara (singing, shamisen), Hokuto Ikema (koto), Satoshi Iritakenishi (flute), Natsuko Morita (kokyu), etc.
■Performance Details
Date: August 25, 2022 (Thu)
Time: Performance at 19:00 (Doors open 18:20)
Venue: SuntoryHall
Address:1-13-1 Akasaka, Minato-ku, Toko
▶
Japan Philharmonic Orchestra Official Website
■Performance program
John Cage: Musicircus [Concert hall version]
Ives: The Unanswered Question
Dai Fujikura [for null] for Media Art and Orchestra – on Yoichi Ochiai's "Re-Digitalization of Waves" *Commissioned World Premiere
Falla: "Ritual Fire Dance" from "The Bewitched Love"
Stravinsky: Ballet Suite "Firebird" (1919 edition)
* point: "Online simultaneous distribution & rebroadcasting": In order to share this experience and disseminate it throughout the world, this performance will be simultaneously distributed and rebroadcasted through digital recording.
■ Pre-event: "Musicircus at Karajan Square"
Date: August 25, 2022 (Thu) 17:00 - *Cancelled in case of bad weather
Location: Karajan Square
Scheduled appearances: Amarjalgal Dorgion (matouqin, homy), Giant Kuroneko, Hiroshi Saito (cimbalon), NPO Japan Indonesia Bali Education and Culture Association (JIBECA) (gamelan), Hanako Nakamura (sho), Shinya Hashimoto (serpent), Michael "Manish" Robinson (steel pans), Machiko Machikado (matryomin), etc.
Cooperation: Mori Building Co., Ltd., Yamato Transport Co., Ltd.
*Event open to all.
■Related exhibitions 
Yoichi Ochiai "Re-Digitalization of Waves No.55" / Complete Replica of National Treasure Flame-Type Earthenware (Designation No. 1)
Location: Suntory Hall Foyer
Equipment provision and technical cooperation: Seibido Co., Ltd. Cooperation: Tokamachi City Museum
* Limited to venue ticket holders
■Price
Venue tickets
S-seat: ¥8,000 A-seat: ¥6,500 YS-seat: (under 25)/Diversity seat *1 (holders of handicap certificate): ¥1,500 
▶
Ticket purchase
*1: Pioneer Bodysonic (sensory sound system) seats are available.
▶To apply:
Pioneer Corporation "Let's Listen With Our Bodies Concert"
Online broadcast tickets
¥5,000
Viewing from Japan: Rakuten TV [live broadcast + recorded broadcast 8/25 (Thursday) 22:00 - 9/4 (Sunday) 23:59)]
▶
Ticket purchase
(until 20:59 on 9/4 (Sun.))
Viewing from abroad: MUSIC/SLASH [live streaming only] ¥6,000
▶
Ticket purchase
(until 23:00 on 8/8 (Mon.))
Crowdfunding READYFOR (until 23:00 on 8/8 (Mon.))
"Sound of Omnipresence|8/25 The World is Full of Music."
Click
here
to support the concert. There are also plans that include tickets, or tickets that allow the broadcast to be watched from abroad.
■Sponsorship/Planning/Production
Japan Philharmonic Orchestra
*A subsidized project of the 2022 Japan Expo Innovation Project
(Independent Administrative Agency Japan Arts Council/Agency for Cultural Affairs)
■Cooperation:
Emo House Co., Ltd., WOW, TBWA\HAKUHODO, Pioneer Corporation, Ritsumeikan University Shizuka Shirakawa Institute of Oriental Letters and Culture, Haruka International Co., Ltd., Tokamachi City Museum, GROOVE X Co., Ltd., and others.
■Support:
Prism Co., Ltd.